As those winter evenings fade to a distant memory, I'm finding myself less attracted to sit around watching DVDs at home on a regular basis. But one of the greatest benefits of renting from LOVEFilm is that you cannot get penalised with 'late fees' as the time you're allowed to hire discs for is indefinite.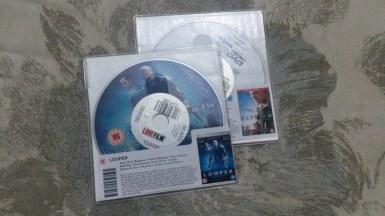 With the two films I'm writing about briefly this evening, both were in my possession for a good fortnight, if not slightly longer. That's partly because (very true to my form), I fell asleep and missed large portions on each film across multiple viewings! But I'm now able to write, having seen enough to know more or less what I'd like to say.
Let's start with Looper.
I was somewhat familiar with the name; it just happened to be something that didn't grab me enough at the time of its release. Until recently watching it, I'd assumed it was somehow going to resemble Jumper but, for where that one is based around teleportation; in the world of Looper, exists the possibility for individuals to travel backwards through time and not space.
If it has Bruce Willis in it then it's usually something I'm going to enjoy (16 Blocks and Die Hard 5 being two exceptions). But Jospeh Gordon-Levitt is the main star here. I've always regarded him as "The 30-Year-Old Teenager" for his almost-comical youthful looks and build. As the film began, I noticed that make-up artists had been hired to increase the 'age' of his face and I wondered, quite briefly, whether the director might've found it easier to have simply cast a different actor… But then, it hit me. He's supposed to look like a younger version of someone else and, what's more, he possibly creates the best impersonation of a young version of this-actor that we may ever see!
Yes, I could name them. It's not really much of a spoiler and there's a good chance that even those of you who haven't seen the film have already figured out… But if you're looking forward to your first viewing of this film then, it may well be a welcome surprise!
Enough about faces – and I quite enjoyed this movie. It was entertaining without being too over the top. It explores ideas about time travel and telekinesis without getting carried away.
Elysium, on the other hand, only served to disappoint me.
I must've mis-read those reviews on Amazon rating it at 4/5 stars because I found it quite slow at times and, even when things began to happen, it was almost as if they'd jumped or cut out a scene that would've explained the necessity of what we were witnessing next. I think I only sat through it twice and yet, slept through different portions on both occasions… What I'm saying is that I didn't feel compelled to see it through completely after two 'impaired' sittings.
I'm struggling to think of another film starring Matt Damon that's disappointed me (although I have a strong dislike towards The Talented Mr. Ripley but that's mainly because of Philip Seymour Hoffman's character…). This isn't Jason Bourne, it's not even James Ryan. I just found it a bit pretentious and almost over-reaching with some of its ideas, while also bound with a general lack of explanation (although, perhaps not on the scale of LOST).
So, those are my unconventional reviews for this week. I currently have two newer discs sat beside my TV tonight and I'll most likely be sitting down to watch each for a second time over the coming weekend.
Thanks for reading.