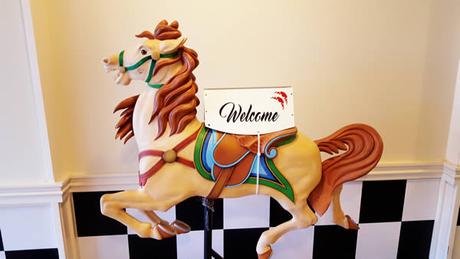 The Softstar shoemaking elves are always on the lookout for opportunities to get involved with local community projects. We occasionally close the shop for part of a day to allow our staff to volunteer for causes they support. When we learned recently that the nearby town of Albany, Oregon needed help moving animals for their newly restored carousel, we jumped right in!
The work for Albany's Historic Carousel and Museum began way back in 2002 when a handful of community members took interest in constructing a traditional wooden carousel in the town's historical district. After 15 years of generating support, collecting donations and recruiting literally tens of thousands of volunteer hours, the project is now nearing completion.
The final carousel will be powered by an original 1909 Dentzel Carousel Corporation mechanism (donated by Bill Dentzel, great grandson of the company's founder), which took nearly 10 years to restore.
The project headquarter now needs to move from its temporary home to the final museum location a few blocks down the street, including all the animals that have been built or restored so far... and that's where we came in!
The Softstar elves volunteered a morning of work to transport a variety of colorful animals down the streets of downtown Albany to their new home. We received some funny looks as we pushed lions, horses, griffins and giant fish through bike lanes, but mostly lots of excitement and applause. The citizens of Albany have been waiting a long time to see the final carousel, and we gave them a sneak peek!
We also had the honor to chat with volunteer and WWII Navy vet Harry Lagerstedt, who at the age of 92 is hand carving a carousel horse in honor of his late wife. She was passionate about quilting, so the horse's saddle will be painted with a quilted pattern. Harry blew our minds when he told us he walked 90 miles two years ago for his 90th birthday! He did add that he didn't do it all at once. When asked if he still walks he said he barely has time for it anymore, as he used to spend 5 hours walking 13 miles every single day... even after turning 90 (mind blown again). If that isn't impressive enough, we watched his skillful hands carve the beautiful horse's tail and asked how long he had been a wood carver. He told us he started just last year (mind blown x3). We all walked away realizing we had no excuses for putting off our dreams... and also that it's never too late to start.
We were asked not to post pictures of the final location--to be saved until the official grand unveiling--but we do have permission to share with you some photos of our staff at work. Enjoy!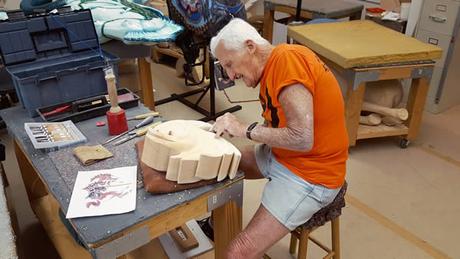 Harry Lagerstedt carving the tail of a horse that will be dedicated to the memory of his wife.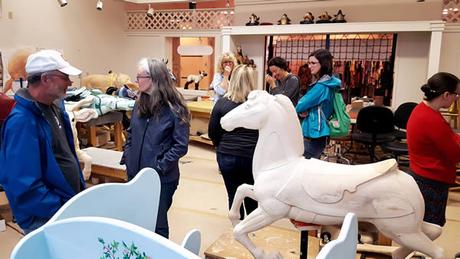 Softstar elves arrive on the scene, and are immediately awed by the beautiful carvings.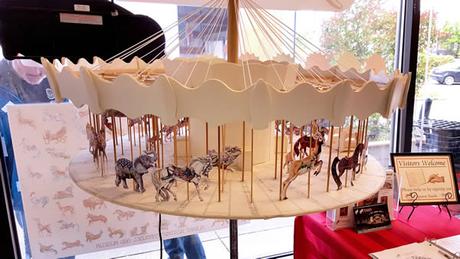 A model of the carousel. Whenever an animal is completed, it's cutout is placed here.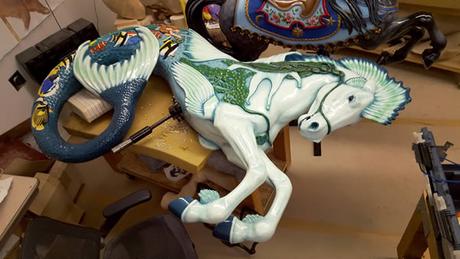 It's a seahorse! (Heh heh... see what I did there?)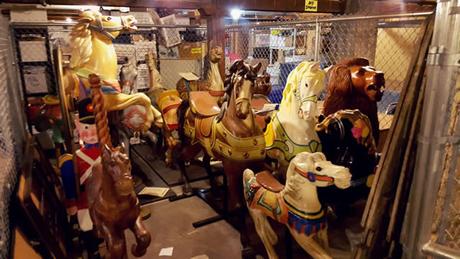 Animals hiding in storage. Happy to say we freed them all.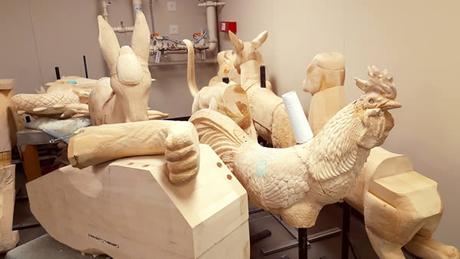 Storage of animals still in carving stage.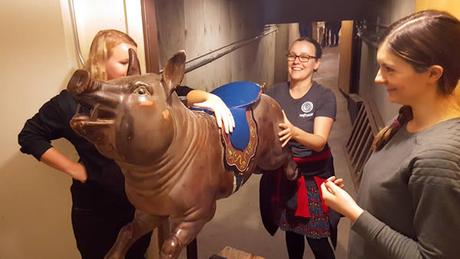 Kylie, Sarah and Ali maneuver a wild boar into the elevator.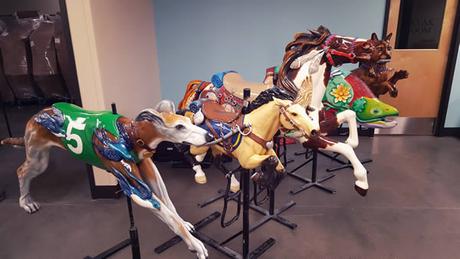 Ready for their new home!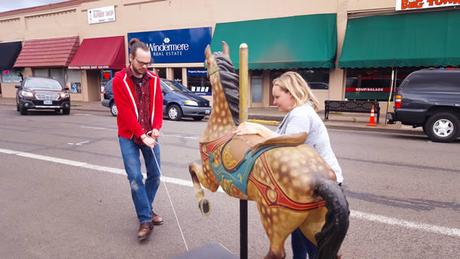 Ken and Keita guide a colorful horse through downtown Albany.
Softstar founder Tim, Customer Service Elf Katie and Co-Owner Larkin get some cheers from locals.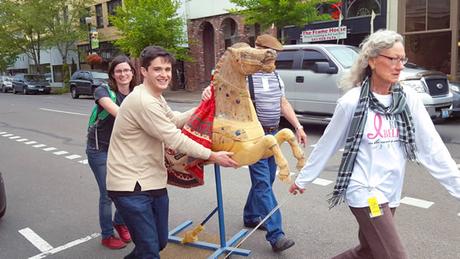 Elves Elizabeth and Austin help other volunteers carefully move a vintage horse.
The carousel is expected to be completed later this year. You can follow the progress on Facebook.
Related Posts:
Kids on Wheels: Roller Skating History of the Softstar Workshop