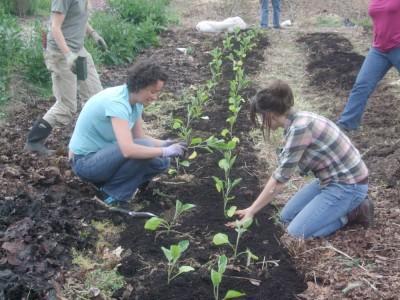 Earlier this week, the elves donned their gardening clothes, closed the workshop early and headed out to beautiful Starker Arts Garden for Education (SAGE) to participate in an afternoon of volunteer work.
SAGE is a unique community garden located in southwest Corvallis. The food grown there is donated to local food banks and soup kitchens, providing fresh fruits and vegetables to families in our community who need them most. SAGE depends on community volunteers to help farm this one-acre plot of city land while educating the workers on gardening skills and teaching kids where their food comes from. In 2012 the garden supplied 3.5 TONS of organically grown produce to agencies and families all over Corvallis.
We had a lot of fun weeding, chopping, shoveling and planting. Families and children were invited, too, and our little ones were very excited for the opportunity to play in the dirt. Check out our photos from the afternoon:
For more information about this wonderful community garden, check out the SAGE website.