Are you just engaged and considering an elopement wedding in France? But where and how? Here is some information that we hope will help!
Your perfect elopement location
Of course when thinking about a romantic wedding in France Paris comes to mind first. The thing is, when eloping, it is just the two of us… obviously. So this means that there is lots of time for couple photos where other brides and grooms would organize a long cocktail reception and stay among their guests. So choosing a location that offers a great variety of backgrounds for your photos makes sense. Paris is a great choice of course, but so is Provence where you can find lavender fields, sunflower fields, charming villages and the sea view…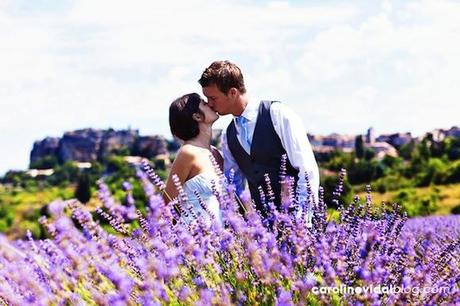 And about the planning
Of course planning an elopement wedding is easier than planning a bigger one with lots of family and friends. Regarding the ceremony, you would have to decide whether you are after a religious ceremony or a symbolic one. Once this is sorted, it is about planning the day or week end of your dream, as YOU want, doing what YOU like! To be sure you make the most of your destination elopement in France, discuss the planning of the day with your photographer in details: where, when, will the places be open and not too crowded, how are you going to go from one point to the other, how will the light be at the time of day you are planning to take photos in such or such place,…? It has to be a fun and relaxed time for the two of you, not a hassle or a disappointment because the place you wanted to take photos in shut 30 minutes before your arrival. Make an Internet research about events taking place around your wedding date so you can take everything into consideration in your photo shoot plans.
If you would like to discuss your elopement in France do not hesitate to contact us at Et Voila! Weddings!
photo credit: Caroline Vidal