Ordering a live painting is like commissioning your own work-of-art that you will treasure forever, and it is also a one-of-a-kind entertainment for your wedding!
Creating A LITTLE EVENT WITHIN THE EVENT, your live painter puts up the easel with a little torch to illuminate the painting board and people can come by and watch the painting while the picture grows into a documentary piece of art. For 5-6 hours, the painter captures the memorable highlights of YOUR WEDDING ON CANVAS as they unfold.
The painting will be finished by the end of the event which means that you can put it up for display after dinner or on your next day brunch! Also, you can make a high resolution picture of it and print it on your Thank You cards so all of your guests can have a copy as a keepsake.
Live painting are becoming more and more on trend but it is still very early days so you would probably be the first to have one for your wedding, to make it even more SPECIAL AND ORIGINAL. No doubt your guests will be intrigued and fascinated by your very own French painter!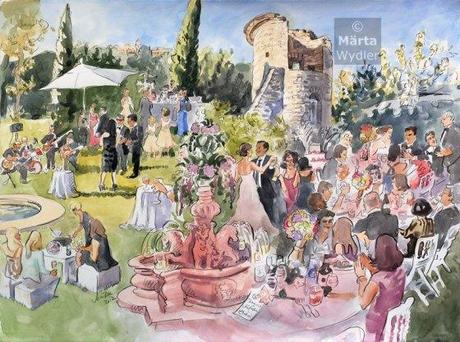 Wedding live painting by Marta Wydler
If you are getting married in France and are looking for a live painter, contact us on contact (at) etvoila-weddings.com.