Ellie went to Iowa State University's Small Animal Oncology Department today.  Oddly, this morning, all the swelling that had developed under the three toes was gone, and only the pea sized lump at the site of the original lump remained.  She was no longer limping.  I almost considered not taking her!  Then I considered the aspirate results, and figured I really should get a second opinion.  The other swelling must have been inflammatory rather than cancerous, which is a blessing, but sure caused me a lot of stress and Ellie a fair amount of discomfort.
After a thorough exam by a veterinary student, we waited for the Doctor.  Watching the vet student perform her exam on Ellie reminded me of just what it felt like to be a fourth year vet student.  You did everything slowly, knowing that the owner's eyes are fixed upon you .  You did it slowly, not just because you were new to doing it and trying to remember just where to go next, but also because it showed the owner how intent you were at making sure everything is okay.  The truth is that it probably works!   As we gain experience, we gain speed.  Clients often ask, "Did you give her the shots?", when I had just given the shots in front of them while they were talking, but they did not notice me doing them!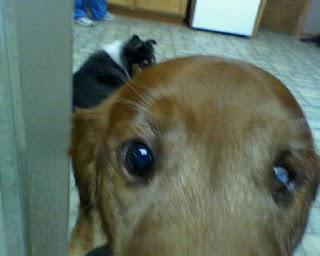 Ellie helped to educate a lot of the students today.  She not only allowed the student assigned to her case to do a thorough exam and collect her medical history, she also allowed other fourth year students to aspirate several lumps, most of which I had known and examined, but a few that were discovered by the Oncology doctor upon her exam.  They made slides of all her lumps and bumps, many of which I am sure are lipomas (fatty tumors of no real importance which Golden Retrievers seem to collect).   The students not only gained experience taking the samples and preparing them, but also were able to read them later in the day.  This hands on experience is invaluable to the students.  I have not heard any negative reports on the other lumps and bumps, so I am assuming they too were not of any significance.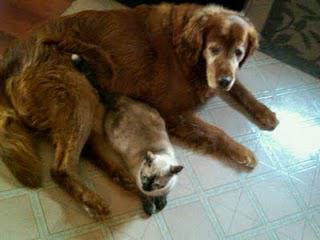 The suggestion on Ellie's toe lesion is one with which I am very happy.  We are going to administer chemotherapy orally (pill form) for five days in a row, with sixteen days off, then five days in a row, etc.  The oncologist was certain the lesion would shrink enough to remove easily, and was hopeful that it might completely disappear on this protocol.  She assured me this lesion would not contribute to Ellie's demise.  This news lifted my heart.  What made me feel even better, is that she "remembered" my other dog, Immy, who she had treated for cancer over seven years ago.  Even if she had just reviewed the case knowing that I was coming in, this recall made me happy.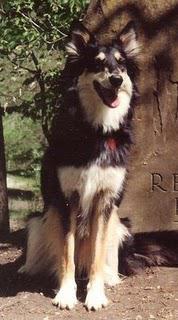 My continued fear is Ellie's response to the medications.  These drugs generally attack rapidly reproducing cells in your body, not just cancer cells.  This affects intestinal lining cells and can cause diarrhea and intestinal problems, and can cause problems with blood cells as well.  She will also be on a steroid which will make her drink and tinkle... alot!  The good news is that Ellie is wonderful at letting me know when she has to go outside, so I will have to focus on the fact that she may be telling me more often than usual!  It is up to me to listen to her!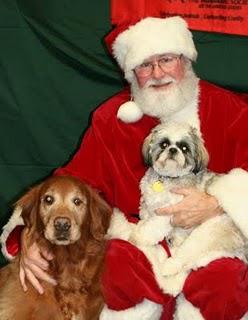 Ellie can sometimes suffer from anxiety, being alone or in new places. Today, she did very well, prancing through the halls at the veterinary school like it was a doggie park!  She seemed to love it!  I was so proud of her.  She didn't even mind passing and saying hello to other dogs!  This will surprise my coworkers as Ellie is vehemently against other dogs being walked through our clinic, likely because the clinic belongs to her!
The vet school is still undergoing reconstruction but the new entry has absolutely gorgeous etched glass murals of veterinarians of all types doing what they do!  Here is one image from two different angles.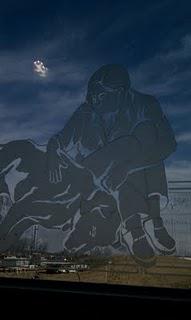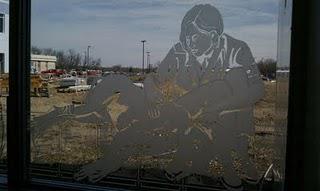 After the Doctor's visit, Ellie and I went home.  We left Kirby and Dove at my clinic for a few hours.  Ellie climbed onto the couch with me and we enjoyed some alone time.  I think she actually enjoyed the day, despite having been a pin cushion for the advancement and education of the veterinary students.  It was overall a good experience.
Thank you all for your well wishes and your prayers. Ellie and I truly appreciate it!
I am hopeful for her recovery, and grateful at our renewed time together. I hope I remember what the past few weeks have been like, and hope that I am less likely to take our time together for granted.