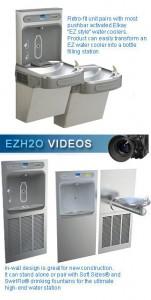 Arguably the most visible sign of waste are the plastic bottles that can be seen strewn about beaches, classrooms, and airports alike. Water dispensers (picture the old fashion water coolers without the large, five gallon jugs on top) have started replacing water fountains and water coolers in offices and other spaces. Elkay Companies which makes an array of water related devices (from fountains to sinks), has developed the EZH2O. EZH2O is a water dispenser that can be combined with existing water fountains.
Elkay promotes the EZH2O for schools, health-care facilities, fitness clubs, and hospitality industries. The company claims that "EZH2O reduces our dependency on plastic water bottles, provides a rapid fill water to quench thirst and help minimize disposable plastic bottle waste in the environment." Elkay sells multiple models of the EZH2O, including a retrofit for existing water fountains as well as a stand alone dispenser.
The specs for the EZH2O include:
The EZH2O fill rate* is 1.1-1.5 gpm; 3 times faster than a traditional drinking fountain
One-handed operation allows for a quick fill between activities
The electronic sensor provides touchless, sanitary operation; just place and fill
Available as Filterless or with the WaterSentryÂŽ Plus 3000 gallon filter is included (NSF 42 & 53 certified for particulate, chlorine, taste & odor and lead reduction)
Integrated Silver Ion Anti-microbial protects against mold and mildew growth
Innovative Green TickerTM counts the quantity of bottles saved from land fills
Here is a brief video I shot of filling up a 32oz./1 Liter water bottle. Notice how quickly and smoothly the water is dispensed. There is no automatic shut-off, just a sensor on the back of the dispenser that recognizes a bottle has been placed there and starts dispensing water. In the upper right hand corner of the device, there is a counter that indicates how many plastic bottles have been eliminated through use of the dispenser.
[Image source]