That Francesco Cavalli's
Eliogabalo
survives at all is something of a historical improbability. The experienced and popular operatic composer penned the work late in his career, but it was never performed. Was it too musically old-fashioned? Too politically subversive? Scholars have labored over these questions without achieving consensus (more information here.) It was this trail of scholarship that led Gotham Chamber Opera to the work, replete with erotic and political scandal, which is now being performed to capacity audiences at
The Box
. In other words, seventeenth-century Venice interpreting third-century Rome gets an environment strongly reminiscent of the seedy sensuality of Isherwood's Berlin. I was intrigued by the venture's approach to showing New York City audiences past decadence(s) through the venues and aesthetics of our own. The results of this enterprise, however, were mixed. The baroque-punk aesthetic of Mattie Ulrich's costumes (with more than a hint of burlesque about them) I thought inspired. James Marvel's direction of the on-stage antics, however, was crude and unsubtle, doing a disservice to Cavalli's sophisticated treatment of sexual power games played--often with desperation--by all of the characters. The burlesque dancers had, in fact, the choreography most expressive of eroticism and control. Almost completely lost in the indiscriminate lasciviousness was the debate, prominent in Aurelio Aureli's libretto as in its seventeenth-century context, on whether or not the iniquities of a tyrant ever absolved his subjects of their loyalty to the person of the king. (An honorable exception to this was the transformation of burlesque dancers into the Furies who haunt Alessandro as he meditates on the conflict between passion and duty, surrounded by the mockery of multiple mirrors.) Despite the largely two-dimensional direction, the singers performed with admirable commitment, although musical matters were also somewhat uneven. Still, caveats and cuts notwithstanding, I was glad for the chance to encounter this rarity of the operatic repertoire.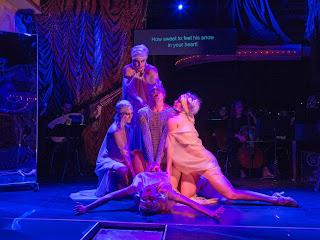 Imperial indulgences: Eliogabalo and slaves
 (Photo (c) Richard Termine)
The score was performed by a reduced ensemble; two violins, a viola, and a cello made up its body, with Grant Herreid on the theorbo and Neal Goren at the harpsichord providing direction. Daniel Swenberg was the other very able theorbist. Expressive theorbo-playing has been a rarity in my musical life, and it was a treat to get so much of it here. In the comic role of Nerbulone, a lusty servant who might be one of Leporello's ancestors, Brandon Cedel gave a standout performance. Charismatic, expressive, and genuinely funny, Cedel sang with sly nuance and redoubtable energy. Whether overindulging in food and drink, flirting with the procuress of John Easterlin, or mocking the conventions of a lovers' quarrel duet, Cedel appeared to be in full vocal command, and was welcomed with marked enthusiasm by the audience. As the cynical, lusty harem mistress Lenia, John Easterlin was arch in manner and vocally secure, commenting bitterly (when not actually managing) the actions of the more idealistic lovers. Daryl Freedman sang Zotico, his/her partner in vice, with a vocal style oddly reminiscent of Edith Piaf, and a pseudo-fascist habit of gesture no less confusing.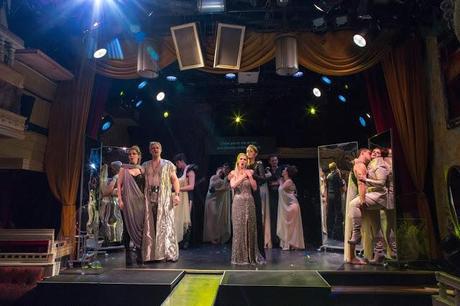 Final ensemble: Alessandro being crowned, social order is restored (Photo (c) Richard Termine)
Giuliano, one of the morally conflicted would-be tyrannicides, was sung by Randall Scotting, who shaped his phrases intelligently, and improved in strength over the course of the evening.
Susannah Biller
was his lover, Eritea; one got the sense that she was cynically exploiting the male equation of female virginity with female virtue (and, by extension, with male honor) in order to goad the reluctant Giuliano to the murder of the emperor who was her rapist. Although with limited scope for characterization, Biller sang with consistent security of tone. She was at her best in the second half of the evening, which included a very John Donne-esque duet for her and Giuliano: "Te sol bramo, ma baciarsi non si può!" With a pure-toned mezzo, Emily Grace Righter sang Alessandro, the general whose passionate fidelity to the ideal of kingship blinds him to Eliogabalo's excesses. Righter's legato phrasing was elegant, and Alessandro's anguished moment of awakening to reality and his powerlessness, in the aria "Misero, cosi va," was beautifully handled. As Flavia Gemmira, the unfortunate consort-elect of Eliogabalo, Micaela Oeste seemed vocally miscast. The part sat low in her range, which may have affected her intermittent problems with intonation; I'd like to hear her again in something else. Christopher Ainslie sang the title role with great vocal intelligence and dramatic relish. He sounded a trifle underpowered, but I suspect he may have been having an off night. His diction was incisive and his portrayal of the emperor's insatiable concupiscence convincing. Despite the pleasures of discovery, though, I was left feeling that a great deal of this Cavalli opera was left unexplored.