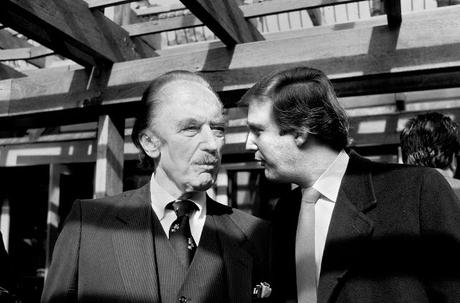 (Photo of Fred and Donald Trump in the 1980's in by Bernard Gotfryd/Getty Images.)
One of the biggest lies Donald Trump has ever told is his claim that he built a financial empire out of a single $1 million loan from his father. That is not even remotely true. The New York Times exposes the truth in an excellent investigative article about the Trump family financial shenanigans (and it's well worth reading).
Here are 11 things the NY Times thinks you should know about Trump's finances. You can go to their article to see the in-depth discussion of each.


1. Trumps' tax maneuvers show a pattern of deception, tax experts say 

2. 

Donald Trump began reaping wealth from his father's real estate empire as a toddler

3. 

That 'small loan' of $1 million was actually at least $60.7 million — much of it never repaid

4. 

Fred Trump wove a safety net that rescued his son from one bad bet after another

5. 

The Trumps turned an $11 million loan debt into a legally questionable tax write-off

6. 

Father and son set out to create the myth of a self-made billionaire

7. 

Donald Trump tried to change his ailing father's will, setting off a family reckoning

8. 

The Trumps created a company that siphoned cash from the empire

9. 

The Trump parents dodged hundreds of millions in gift taxes by grossly undervaluing the assets they would pass on

10. 

After Fred Trump's death, his empire's most valuable asset was an I.O.U. from Donald Trump

11. 

Donald Trump got a windfall when the empire was sold. But he may have left money on the table.