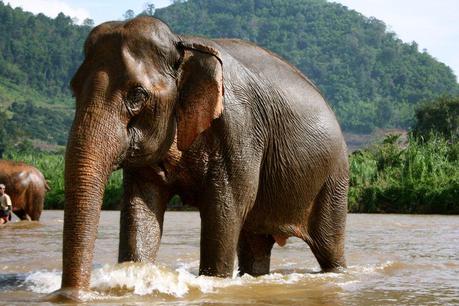 The time we spent with the elephants at Chiang Mai's Elephant Nature Park last week was undoubtedly one of the major highlights of our trip so far. We were there for six hours, and already we're itching to go back and find some way to return and volunteer.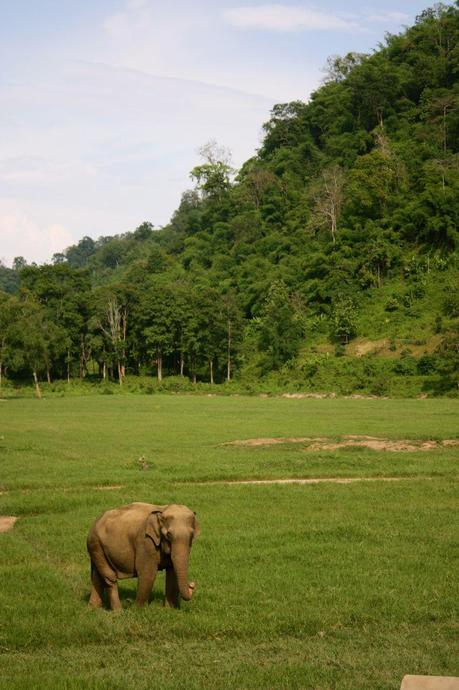 A van picked us up early in the morning and along with eight other visitors we were soon zigzagging our way north to the Elephant Nature Park - a true elephant paradise in Chiang Mai.
The Park was started in the 1990s by a Thai woman named Lek. Her grandfather was a hilltride shaman, and early if life she developed a love for elephants and deep concern for their treatment and future in Thailand. While elephants are unquestionably the most revered animal in the region, their numbers are dwindling. When logging in Thailand was abolished in the 1980s, the majority of elephants were no longer needed and their owners unable to pay for their very expensive upkeep. As a result, their population declined and those that survived were forced to earn their keep through the tourism industry.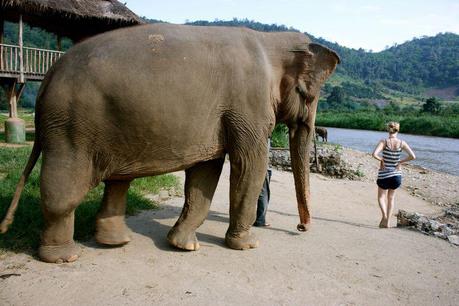 Everyone who comes to Thailand wants to see the elephants, and probably ride them. Yet the stories behind the treatment of many of these incredible animals would make most people think twice before putting their money into a hillside elephant trek or "day as a mahout". Many elephants regularly receive incredibly harsh treatment, are abused, malnourished, and forced to wander the streets of major cities like Bangkok with their mahouts begging for bananas from sympathetic tourists. While it's technically illegal to bring elephants into cities, it's virtually never enforced, and not unusual to see baby elephants stumbling along city sidewalks. There is also zero legal protection for privately-owned elephants, and no rules or regulations surrounding how they should be treated. 
Needless to say, elephants in Thailand are in a bad way - and this is all not to mention the horrifying traditional breaking ceremony in which baby elephants are separated from their mothers, and forced to spend days in a holding pen called a crusher being tortured until their spirits are so broken they are sure to be subservient.
The stories are devastating, but through her Elephant Nature Park Lek is working to provide an alternative.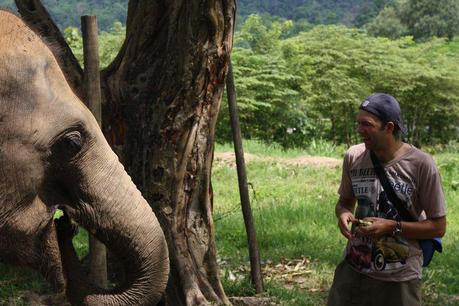 Lek rescues abused, injured, sick and mistreated elephants from around the region, bringing them back to the Park where they are able to roam free, form their own family groups, and live as natural and peaceful a life as possible for elephants not accustomed to living in the wild. There are old grandmas, mothers, rambunctious male teenagers and little babies - each assigned their own mahout (or caretaker) who follows them virtually everywhere and learns to communicate through voice and soft touch rather than the traditional hook. 
The park's objectives are to provide a sanctuary for the endangered species, restore their natural habitat, work with the local community to improve elephant welfare, educate visitors, and help to create profound change around the traditional treatment of elephants in Thailand. 
A tall order, but she seems to be making real progress. While Lek started with only one elephant, there are now thirty six that live in the park. Much of the money used to purchase the elephants and their land comes from donations, and the park is constantly filled with volunteers and visitors who pay to spend time with the incredible animals that now call it home. She's also recently been featured in publications including National Geographic, CNN, BBC and TIME Magazine, and recognized both as one of "Asia's Heroes" and an "Outstanding Woman of Thailand".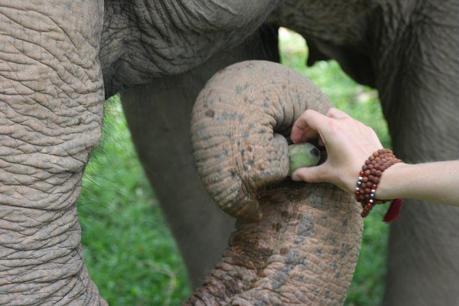 Unsuprisingly there aren't any elephant rides at the park. Or painting shows. Or tricks. Many of the elephants have sustained permanent injuries from their time working in trekking camps and begging in the streets, and this is their time to finally just be themselves. Visitors are able to wander the grounds with guides, spending time meeting and feeding various elephants, bathing them and just soaking in the incredible environment.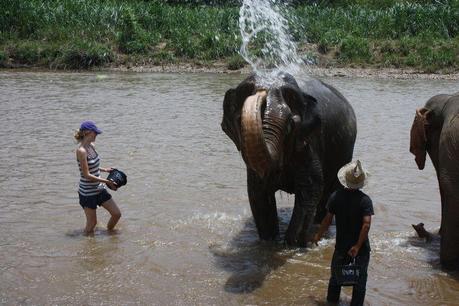 And you quickly realize that that's all you need. Just being around the elephants is special enough, and we we were almost instantly so glad we hadn't signed up for one of the many Chiang Mai elephant rides, and rather had the time just to experience the animals and know that our money was going to an organization working to promote meaningful change in their lives.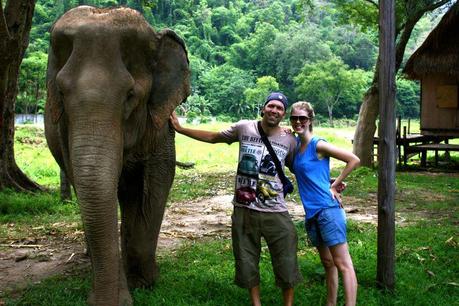 Like most things, however, the issues is not as black and white as saying that the elephant trekking organizations are bad and Elephant Nature Park is good. Elephants require an astounding amount of care, 350-600 pounds of fresh food per day and over 150 liters of water. In order to keep their elephants alive, mahouts must use them to make money and the tourism industry is now their only option.
One of the things I loved about Elephant Nature Park is the fact that they understood this. While it would be wonderful if all elephants could live in the sanctuary, they know that this is not the reality, and thus they put a substantial amount of time and money into programs that help teach young mahouts how to care for their elephants and develop relationships with them that are not based around fear and violence. They welcome mahouts to bring their sick elephants in for free treatment at the sanctuary, and they respond to emergency calls from owners almost anywhere in Thailand.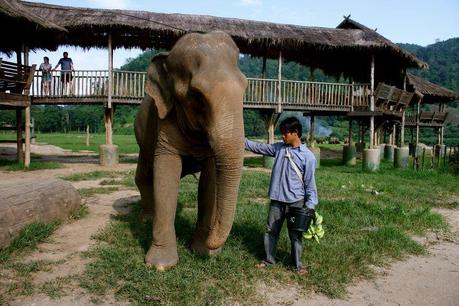 All in all, it was a magical and thought-provoking day. From the pain and guilt of watching documentaries showing how terribly many of these amazing animals are regularly treated by the people they trust, to then being able to walk outside and see them joyfully spraying water and dunking themselves in the sanctuary's river, it was a real journey and truly inspiring experience.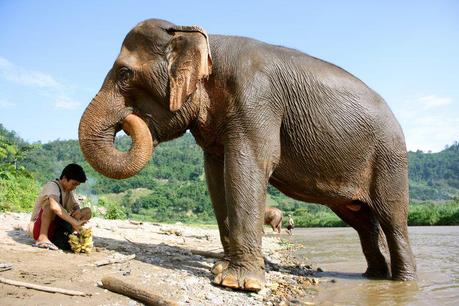 If you're ever in Chiang Mai, definitely take a trip north to the Elephant Nature Park. A day visit costs a hefty $80, which is substantially more than most elephant treks or $5 shows, but the experience is so worth it. If you like, you can also browse the Park's website to find tons of photos and full biographies for each of Lek's lovely animals, or even buy them a meal or sign up to adopt one for the year. 
It's a wonderful place and we already miss it.