Learning how to play the drums is an excellent decision by anyone looking to learn instruments looking for benefits such as an energetic play, great music, and more.
Before now, the choice of drums was limited to acoustic options. More recently, however, electric drums have taken the drum market by the storm.
Electric drum kits were created a long time ago but were somewhat difficult to play. Only recently have they gotten a deserved reception with these newer options. The choice of drums is now often a struggle between acoustic drums or electronic drums.
What Are Electronic Drums?
Electronic drums are drum sets with sample pads or electronic kits that are set up in the same way as in acoustic drum kits. Most electronic drums draw their essence from the ancient styled acoustic drums.
They come fitted with advanced features such as multiple connectivity accessories and better tuning options. There are various types of electronic drums, some of which are:
Tabletop Drum Sets: This is the electronic drum type that typically conflicts with your usual idea of a drum set because it sits on a table. They offer great sound, volume control, and huge portability.
Portable Electronic Drums: These are the 'pack 'n go' type of electric drums. They feature an easily collapsible design that facilitates the ease of movement for your drumset.
Silent Electric Drums: These types of electric drums can be played at almost any location without having to be a nuisance. This option gives the drummer all of the drumming experience, all without a noise except the sound of wooden sticks hitting rubber.
Beginner Drum Sets: There's no friendlier way to help beginners than by creating a drum set tailored explicitly for their needs. The risk in using this drum set is that at some point in training, you will likely outgrow its use.
Electric-Acoustic Hybrid Kits: One must admit this is the premium option within the drum kits space. If you wish to retain the agelong acoustic drum set feeling and the technological edge of an electric drum this option for you, they are set up by using acoustic triggers on a traditional kit.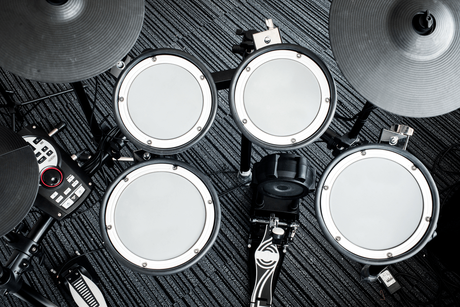 The Benefits of Learning Electric Drums
Now that you're more acquainted with electric drums, here are some of the benefits of playing them:
Volume Control
As a concerned music enthusiast, your issues with playing the drums could be how to control the noise. A quick solution in most cases for acoustic drum set players is to restrict drumming to a basement or garage.
Electronic drums do not have this constraint because they have a built control volume. They can achieve low volume play. You can plug in headphones and play by yourself at any time, including nighttime sessions.
Mobility
How great it is for other instruments that do not require a grand plan to be moved around. For drum sets, this was never a topic up for discussion. They often needed to be run with a minitruck or a considerable level of manpower.
If you use electronic drum kits, you can be sure you can move these pieces with much more ease. They are typically smaller sizes hence, facilitating this. Thus, with a few duffle bags and cases, you can move your drum kits to your next preferred location with minimal stress.
Lesser Space Requirements
It has been established that most electric drums come in a smaller size compared to their acoustic counterparts. If you are setting up your drumset in a bit of a confined space. With options such as the tabletop drum set or the portable drum set, one can be sure to find a way to squeeze in an electronic drum set.
A Wide Variety Of Sound
Multiple music genres require different drumming kits and mics to get the best-suited sounds. Before now, the process of getting a drum set ready for a specific purpose was rather tasking than it should be. However, with electronic drums, you can phase through various sound options with just one drum set.
The trick is in a button or in navigating around computer software, and you can easily get the sound that you want. It also works well for beginners who get to play pre-recorded music samples on these drums.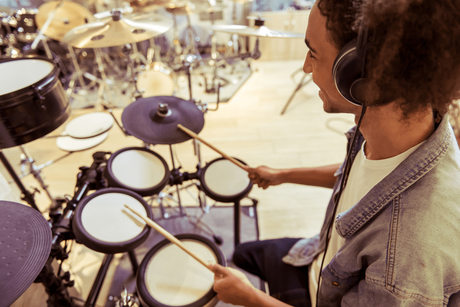 Conclusion
Electronic drum kits have the technological community raving about them. Opting for these drums can help you to create music with so much more ease than acoustic drum sets.
You are not constrained from drumming away at any time, and when it comes to producing great music, they don't fall short. The space economy of owning electric drums also makes it a great option for most drummers. You can sort through the variety of electronic drum options available and select one that is best for you.