Oh la la! To live on just one electrical socket....
The renovation work in our house is in full swing which involves a full house rewiring. Although they have started earlier in the week they haven't finished it yet until other things are done first which means...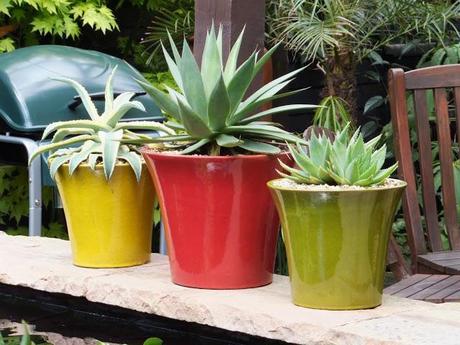 A random photo of succulents...
We currently have very little electrical power in the house. Just enough to power the boiler for hot water, koi pond filter, fridge, and one socket, but not enough to power anything else including the computer.
So no computer, no wifi, no tv (aaarghh!), heck we don't even have power to our cooker (which isn't too bad, a perfect excuse to eat takeaway or eat out every night!). This is only temporary though and we're hoping to restore some normality to our lives by the weekend (what is normality anyway?). And if all goes well we have full electrical supply again by early next week.
Had if not for this electrical rationing we would have been on full blogging mode this week, especially as we have so many updates to share including a visit to a most fabulous private exotic garden 'up north', which looked so good it made us feel more like we headed 'west' instead when we arrived there.
And thank you so much to everyone who has sent us well wishes. We're both absolutely fine and so looking forward to the replanting of the affected areas, rebuilding, as well as a few other changes that lie ahead. And thank you too to those who have been most generous to us in sending or offering us plants, your gesture is very heart warming!
Wishing everyone a great weekend ahead and once we're (safely) electrified again then the blog will be back to normal (again, what is normal anyway?).
P.S. This blog was written whilst within the realms of the golden arches...
Mark :-)