Last year we posted about out little collection of Mangave displayed on our top patio. Time for an update but first a little rescue story: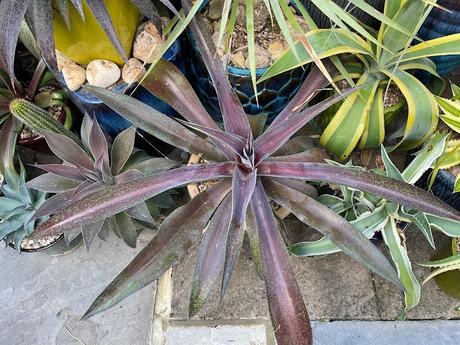 Mangave 'Mission to Mars'
Last weekend we spotted Mangaves on the clearance corner of our local nursery, sold for £1 each. There were several available but we only picked up three from the bunch. They were from a batch of Mangaves that were in their main sales polytunnel before, but they didn't fare well during the winter left in the same spot and didn't recover fast enough in the spring. So off to the clearance corner they went.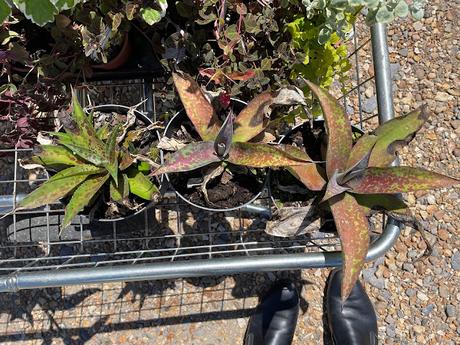 Mangave 'Pineapple Express' and two 'Mission to Mars'
Despite looking worse for wear they were still a very good deal and with a bit of extra care should recover nicely. 
The Mangave 'Mission to Mars' we have already is the same age as these rescue ones we just acquired. But you can see on the photo below how much difference being cared for makes...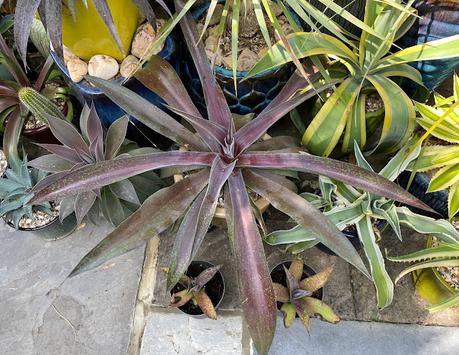 So we gave them a good clean by brown biting, trimming off completely dead leaves, weeding, and removing the bark mulch. They were then re-potted on to bigger pots and re-mulched with gravel and presto, much better...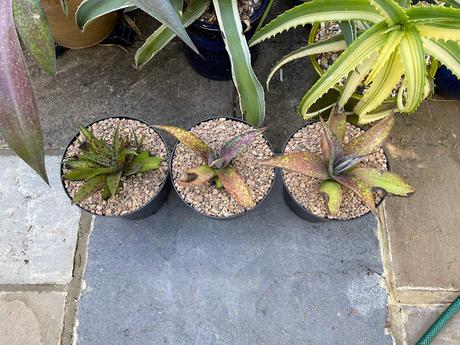 They are now in the greenhouse to be pampered for the rest of the summer and we're confident by the end of the year they would look really good again. Perhaps next year they will be part of the patio display.
So how do you care for Mangaves? Here are a few tips:
As a group, they are generally not hardy for most parts of the UK bar the mildest areas. And even if they sail through permanently planted out, the other challenge is in keeping them looking pristine as the leaves are prone to marking. Repeated and heavy frosts, snow, and winter wet can easily disfigure their appearance. If planting out, a rain shelter is recommended to help them sail through winter alive and looking as good as possible.
Otherwise, keep them in a pot and shift undercover during winter, in a bright/sunny spot that ideally gets some supplemental heating during cold spells. They also seem to tolerate permanent indoor culture fairly well provided that they are in a bright/sunny spot (they are marketed as a houseplant too).
They do appreciate a free root run and grow really fast on the ground, an advantage of being planted out.
Or give them bigger pot to live in and they can still size up pretty quick.
You can obtain the best colouration and markings of the leaves if they are sited in full sun. In a shadier spot you may lose the markings and promote plain green leaves that are lax in habit.
Supplemental watering in the warmer months and a little bit during the winter (if kept indoors) will encourage them to grow and size up quick.
Keep an eye on slugs and snails, they love to graze on their succulent leaves and leave notches and cause scarring.
They are monocarpic and relatively short lived, lasting only several years before they send an inflorescence and eventually die. Some offset freely before the main plant flowers or just shortly after flowering, while some send out bulbils from the inflorescence. Be patient when they bloom, you can harvest the offsets and bulbils once the main plant has completely died off.
The Mangaves we featured last year are all still doing very well and have sized up further, check them out: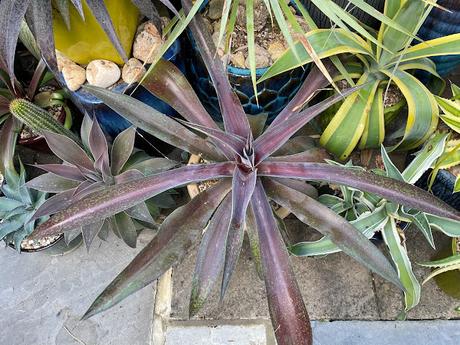 Mangave 'Mission to Mars'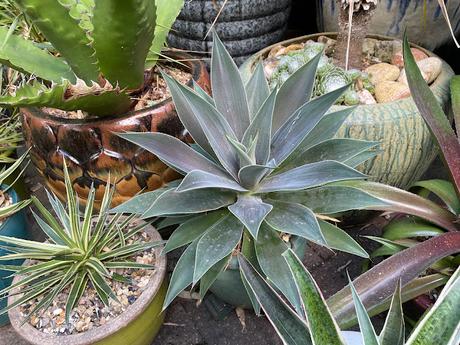 Mangave 'Lavender Lady'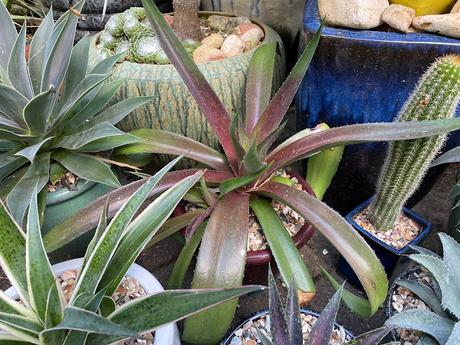 Mangave 'Red Wing'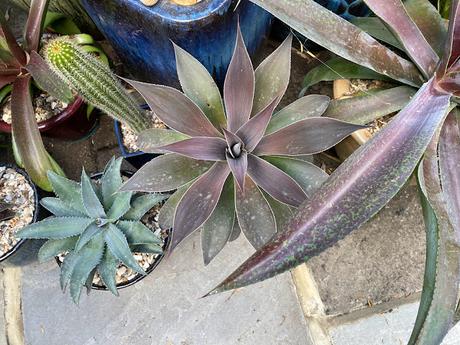 Mangave 'Lavender Lady'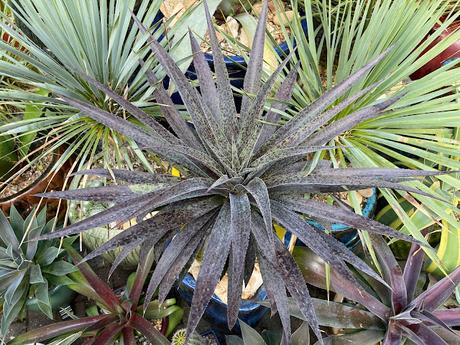 Mangave 'Inkblot'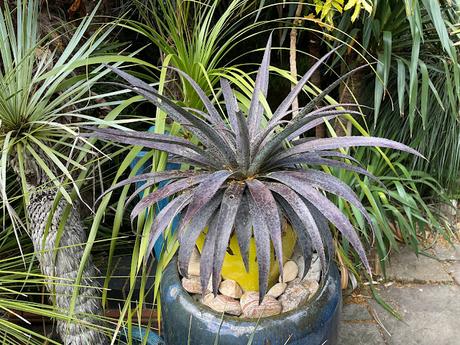 Mangave 'Inkblot'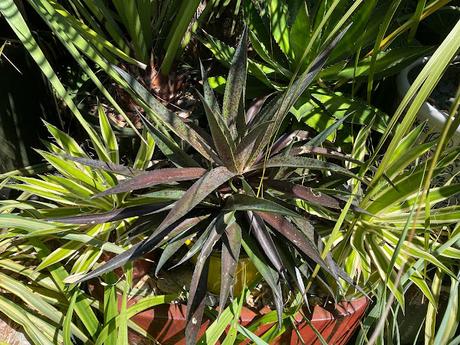 Mangave 'Pineapple Express'
And a few new additions this year: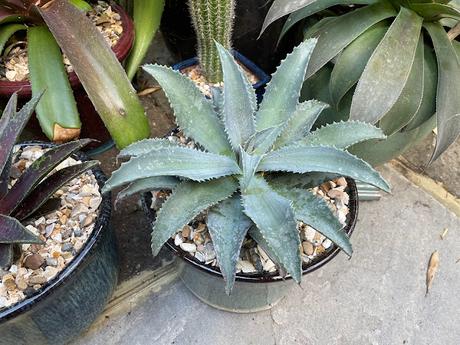 Mangave 'Silver Fox'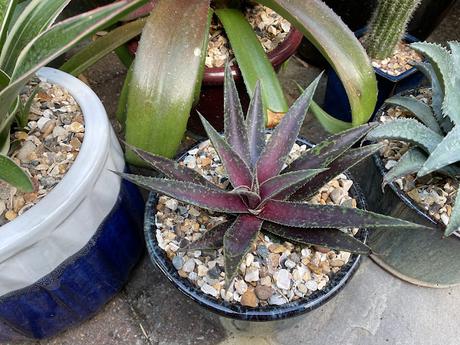 Mangave 'Blazing Saddles'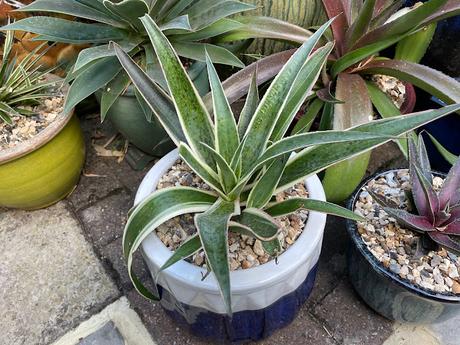 Mangave 'Snow Leopard'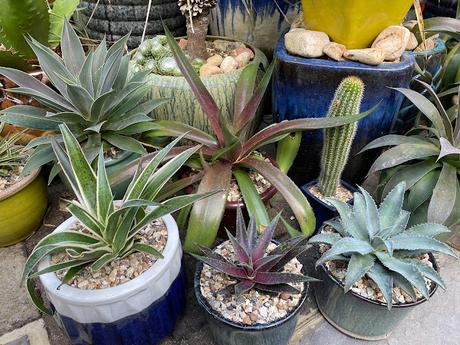 All three together now
Mark :-)