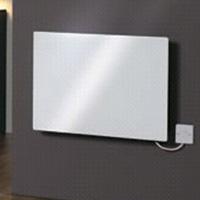 Electric panel heaters can be ideal for properties without central heating, creating ainstant heat source where needed, however traditionally these electricradiators are more practical and less attractive than the standard radiators,which is why I was really impressed with selection available on the Discounted Heating website, they have a large selection from a range of manufacturers tochoose from and offer some fantastic modern and stylish designs, I particularlylike the Dimplex Girona Glass Fronted Electric Panel Heaters, these designerstyle electric radiators look great! And offer a choice of sizes and outputs atvery reasonably prices!
Dimplex Girona 500W Glass Fronted Electric Panel Heater – White
Product Details
• Height: 565mm
• Width: 530mm
• Depth: 107mm
• White finish
• Electronic thermostatic control, providing roomtemperature stability to +/-0.3oC.
• Range of optional plug-in electronic timermodules, including:
- 24 hour digital timer
- Single-zone pilot wire
- programmer
- Runback timer
• Compatible with Dimplex 4-zone, wall mountedpilot wire and mains borne signalling multi-heater programmers.
• Elegant glass front finish in black or white.
• Convected heat for rapid warm-up.
• Silent operation.
• Compatible with a number of color complementaryDimplex plug-in controllers.
• Pre-set background temperature at 5oC.*
• Splash-proof (IPX4) rated, for use in bathroomor wet areas.
Discounted Heating UK
Price Match and Quality Service
Over A Decade in Business