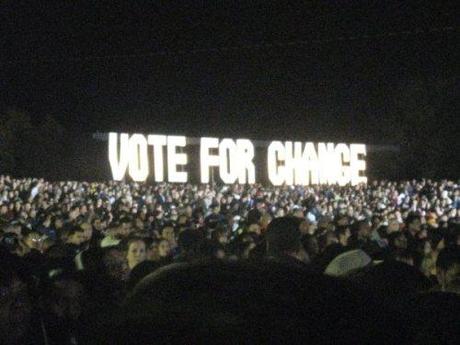 Watching the news today I saw highlights of Obama's last rally of the campaign in Iowa and my mind flashed back to the same night four years earlier, the night before the 2008 election.
We left Washington DC at dusk heading West. By the time we arrived in Manassas, 35 miles South-West into Virginia, it was dark and a light rain had started to fall. It wasn't hard to find out destination, which was the Manassas fairground, but finding a park was a more significant challenge as the streets were choked with cars parked in every conceivable spot, legal or illegal. Finally we found a place and walked to the fairground, where Obama was holding his final rally of the 2008 campaign.
People streamed in the same direction as us and a buzz of anticipation and energy filled the air. It felt more like arriving at a festival than a political event, a feeling reinforced by the stalls and spruikers which lined the street for blocks before the entrance.
The Fairground itself was a sea of people and I wondered if we were going to get close enough to even see Obama. Eventually we emerged into the back of a field with a stage set up at the far end, surrounded by red, white and blue bunting. A huge "VOTE FOR CHANGE" sign rose above the bleachers to our right. We had made it just in time for Obama.
I think he was introduced by Mark Warner, the Democratic candidate for Senate. The 100,000+ crowd roared. I'd never experienced anything like it. I'd been at huge protests before, but the energy there is more defuse and chaotic. Here it was focused with a cultish intensity on the man on the stage, the soon-to-be President of the United States, barely blinking for the 45 minutes he spoke, mesmerized by his well-practiced lines. He closed with the story of the origin of his "Fired up! Ready to go!" chant, the exact same story he finished his final rally this year with.
A lot has happened since then. Some of the hope which characterized the 2008 campaign has become the resignation of this year. Where Obama's 2008 campaign was fueled by a belief that politics itself could be changed for the better this year's campaign is focused on a more traditional calculated: that the other guy is worst. Whoever wins a segment of the population will reject them as illegitimate.
The widening gap in the American political discourse, where arguments center no so much on what needs to happen next but on fundamental disagreements over what just happened, with facts only as valuable as their usefulness in advancing an argument.
For all the fanfare of participation around the presidential campaign and the real and important differences between the candidates, American democracy is in real trouble as the ability to talk and compromise becomes increasingly rare.
For me personally it's been an extraordinary and often-challenging four years. The passage of time always spins me out and anniversaries like this prompt me to try to hold all that has happened over these years in my head at once. From Washington DC to San Francisco and then back to Sydney. Building communities and starting a family. Launching a company and struggling to hold onto my visa. Adventure and uncertainty and joy and frustration and love. So many experiences as we went out there and came back again it kind of boggles my mind.
And I can hardly imagine what the next four years will bring.
Fired up. Ready to go.