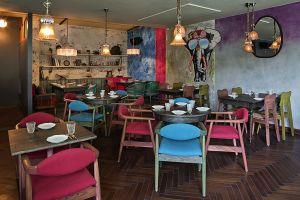 Most stories start with the prelude, 'Once upon a time' which reads, 'Ek Bar' in Hindi. There is no better time to share anecdotes and history then over drinks. Perhaps with this thought the 48-seater bar, designed by Anshu Arora, at Defence Colony has been named. A projector at the entry showing some old film shots, a not-too-bright interiors, sofas with comfortable distance to strike a conversation and an additional little space on the terrace that overlooks the metro-line is sure to make people at home for long evenings.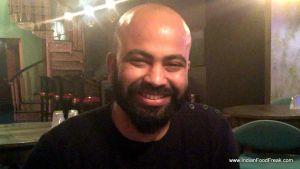 A good bar is defined not only with the variety of alcohol they keep, but the kind of cocktails they can fix and the food that is served along. Knowing that Ek Bar has stake of
Chef Sujan Sarkar
who has worked with Michelin star chefs in London, I was looking forward to my visit. Chef Sujan commented "that idea of this bar came from the bars around the world". He says, "A bar in Spain will serve Tapas or Pintxo, Japan will focus on sushi's, but there is no Indian Bar that boasts of Indian appetizers apart from the Tandoori Chicken". Another highlight of Ek Bar is that it does not use any artificial flavor or syrups in its cocktails. Everything is fresh including the juices. The Indian version of ice is set in katori that we often used to do as a kid when plastic trays were not so easily available.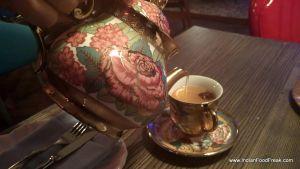 The stories are best told in a bar and the alcohol also reminds of the many Diwali card parties that we have at home. The cocktail special menu is made on the picture of the playing cards and the first drink that I order is served in a tea cup using kettle reeked of royalty.
The Royal Indian Punch
has five main ingredients whiskey, kehwa (Kashmiri tea), grapefruit juice, lime and ginger syrup. The server mentioned that Punch is basically a loanword of Sanskrit meaning paanch (5), which is now commonly used in English. It is a well balanced drink and a good start.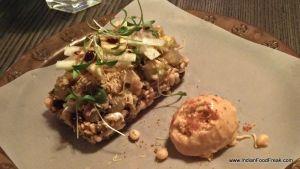 Most of us like papad with our food and drinks. This simple dish called
Charred Roti
(Rs150) has been made gourmet by using maize and millet and serving it with Rajma hummus and pumpkin pickle. It is a good dish to have with the drink, but the dish that stole my heart is the
granola bar
(Rs300). We have all had jharmuri (puffed rice with nuts) many a times. Chef Sujan shows his expertise by turning this dish gourmet by making it in the shape of a granolabar with jaggery and serves it with dressing of dahi bhalla, avocado and green apple. A perfect take on simple chaat that is nostalgic and yet can be served in a modern Indian restaurant.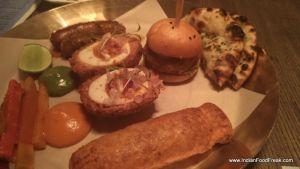 Don't miss the
sausage thaali
(Rs 700), that has a mix of with prawn and chicken tikka sausage along with Goan chorizo scotch egg. The sausage casing is of sheep which really thin and amongst the best one can find in India. This quality is mostly seen amongst the best imported brands, but Chef Sujan has made them in-house. The
non vegetarian Thaali
(Rs600) is also a good sharable portion with duck pattice, lamb galouti kebab sliders, chicken tikka and goan chorizo scotch egg.
If you call your Mojito (Pronounced as Mohito) as Magito, then don't be shy. Ek Bar has named the drink as the most Indians pronounce it. The Mogito 6 is another interesting concoction of rum with amrak (star fruit) and their inhouse mix of 6 spices.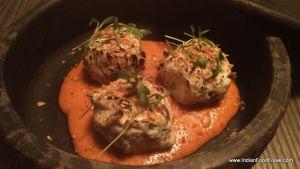 Some of the interesting twist that I found in the menu is the use of mango-ginger that is found abundantly in India but scarcely known is used in the
Queen Victoria
cocktail. The
Goli kebab
(Rs 600) is the chicken mince ensconced in the chicken breast with pine nuts and goat cheese which is first steamed and later put up in a tandoor, and served on a bed of makhani gravy. It has a very moist and flavorful texture and I loved the simplicity of the dish and non-confusing flavors. Another dish to try is the khichri where there is no rice just crushed popcorn with daal.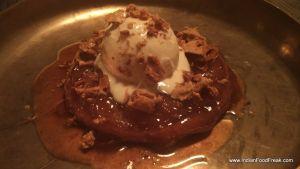 I end my meal with hot banana puff pastry tart that is served with vanilla ice-cream and date jaggery. Finally Indian bar scene has arrived, and two of my favorite places that served best bar food has stake of ace restaurateur par excellence
AD Singh
. And incase you are wondering which apart from Ek bar is my other favorite. It's Monkey Bar!
Ratings (Out of 5)
Food: 4.5 | Drinks: 4.5 | Ambience: 4.0 | Service: 4.0 | Overall: 4.0
Address: D-17 Near Bharat Petroleum Petrol Pump, Defence Colony, New Delhi – 110024 | Phone: 011-71688811
Timings: 6pm to 11.30pm | Credit Card: Yes | Alcohol: ofcourse | Wheelchair Friendly: No