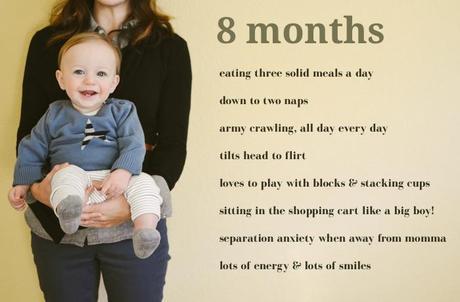 This kid. Every day I think to myself, he is so cute. He cannot get cuter. (first time mom syndrome?)
And then he does something funny the next day and I'm like nope, he is definitely cuter today than he was yesterday.
Everett, you are such a happy baby these days. You are always smiling and laughing. Now that you're mobile, you find such joy in exploring this house. You army crawl and slide around on the tile floor looking for new things to touch, giddy with excitement the whole time. You've decided that life is best when I'm in the room, which is both difficult and sweet. You love to tilt your head and look at people sideways, and anytime you do it to me, my heart breaks into a million pieces.
You are the light of my life, sweet boy, and I thank God every day for blessing us with you for a son. I love you Ev!