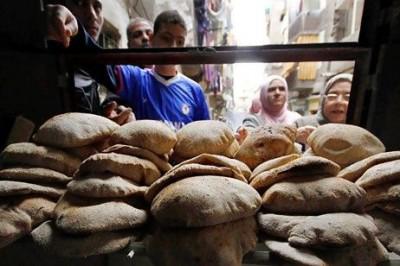 Egyptians wait to buy subsidized bread. (Photo: Reuters)
This week, the IMF is back in Egypt to meet with government leaders to discuss a proposed $3.2 billion loan to the country's transitional government. So far, the package has yet to garner support from either the Muslim Brotherhood or leading Salafist party Al-Nour, both of whom are waiting to hear more details about the economic measures related to the package.
One of the reforms being considered is an end to the billion-dollar food subsidy program, an issue that the has historically proved contentious in Egypt. However, with the right reforms, the Egyptian Government may finally be able to improve an unsustainable program without causing civil unrest or creating uncertainty that would drive away the outside investment the country so desperately needs.
The Egyptian government has long been dependent on food subsidies to shore up popular support. In 1977, President Sadat tried unsuccessfully to end subsidies on flour, rice, and cooking oil, which brought hundreds of thousands of people into the streets to protest. In 2008, people again took to the streets in Cairo, as in other cities around the world, to protest the skyrocketing price of food. In response, the Egyptian government increased its food subsidies. Egypt is now the world's largest buyer of wheat on international markets.
Today, according to a recent Wall Street Journal article, subsidies absorb at least 28% of Egypt's state budget, and when combined with fuel subsidies account for over 10% of GDP. This increase in food subsidies is the result of a number of structural problems stemming from the weakness of the private sector. As Egypt's new governing institutions develop, space needs to be created for the private sector to grow and play a role in providing feedback on any economic reforms made by the government.
According to the World Bank's Logistics Performance Index, Egypt ranks 106th globally in its quality of trade and transport related infrastructure. Weak port infrastructure and a lack of cool storage facilities at ports increase the cost of staple goods such as rice and grain, which factor into the cost of food subsidies.
A second problem, which is endemic across the region, is a highly segmented and regulated regional trade network. Barriers to trade and other complicated trade logistics, which vary on a country-to-country basis increase transaction costs, which add to the value of important staple goods. According to a research paper by Oxford University, The Economics of the Arab Spring, "a better infrastructure, by connecting the region's agricultural markets, can mitigate fluctuations in food prices, since transport costs can make up as much as 40 percent of the overall food price in the region."
Removing barriers to trade, modernizing infrastructure, and developing regional trade networks are much needed reforms that the Egyptian government and newly elected parliament should quickly embrace, especially in labor-intensive industries such as in agriculture. Recently, the Turkish government has stated their intention to pump over $1 billion into Egyptian investment projects in the next few years. Egypt's Minister of Industry and Trade has recently disclosed plans for a shipping route between the port of Alexandria and Mersin on Turkey's Mediterranean coast. Investments related to ports and other trade-related infrastructure must be coupled with any IMF-mandated economic reforms.