eggless carrot cake recipe | carrot cake in pressure cooker - I found baking in a pressure cooker easy nowadays. Usually, I use fine salt in pressure cooker for baking. This time I used sand. I would say I felt the difference of the cake texture , it came out so close to the cake which is baked in an oven. I enjoyed this easy and super moist eggless carrot cake with basic frosting topped with roasted groundnuts.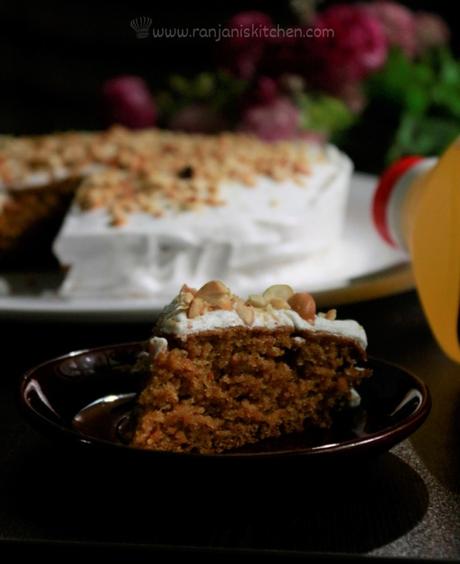 We can simply eat this cake without frosting. It goes very well for tea time and breakfast also. If you are looking for a healthy option on cake, I would recommend this carrot cake with jaggery and I used groundnut oil ( mantra groundnut oil) to make this. As we all know groundnut oil is very good for cooking. I grew up eating food cooked in ground oil only. So I completely know its goodness. I wanted to try baking in a healthy way that's y I used groundnut oil and jaggery and baked in pressure cooker. That idea worked perfect and I got delicious homemade carrot cake recipe on my plate. You also try with the same measure and enjoy this cinnamon-flavored carrot cake with your loved ones.
video recipe for eggless carrot cake recipe:
How to make eggless carrot cake recipe at home:
Pre-heat oven to 180 degrees for 10 mins
If using pressure cooker, put sand or fine salt to the level of inch and place some stand on top of it. Preheat for 10 mins.
To make the cake batter, firstly add jagger or sugar in a mixing bowl, to it add ¼ cup of curd, ¼ cup of milk, and finally ¼ cup of mantra groundnut oil.
Mix everything really well using whisk or fork or beater (choice is yours).once all the ingredients incorporated well, move on to sieving the flour with other ingredients.
In a siever add 1 cup of all purpose flour, 1 sp of baking powder and baking soda , a generous pinch of salt and 1 sp of cinnamon powder. Sieve it directly to the wet ingredients. Or else , you can sieve separately and add it to wet mixture.
Fold everything using a spatula or whisk. Add remaining ¼ cup of milk and mix well.
Time to add carrot 😊 . Add shredded carrot to it and fold to the batter.
Finally add 1 tsp of flavorful vanilla essence and 1 tbsp of lemon juice and mix well.
Cake batter is ready. Now grease a cake pan using oil or butter and dust with flour.
Add carrot cake batter to it , gently tap for two times and bake in oven or pressure cooker for 50 minutes.
After 50 minutes, check with tooth pick or knife by inserting in the centre of cake . It should come out clean. So the cake is ready.
Cook down completely. Loosen the edges and flip. Tap it slightly and remove the cake pan.
Cream frosting(optional)
Add ½ cup of whipping cream to the mixing bowl. Add ½ cup of icing sugar and 1 tsp of vanilla essence.
Whisk using a beater from low to high until soft peaks form. ( you can use wire whisk as well)
Frost the cream in a cake and top with your favorite nuts. Slice the cake and serve 😊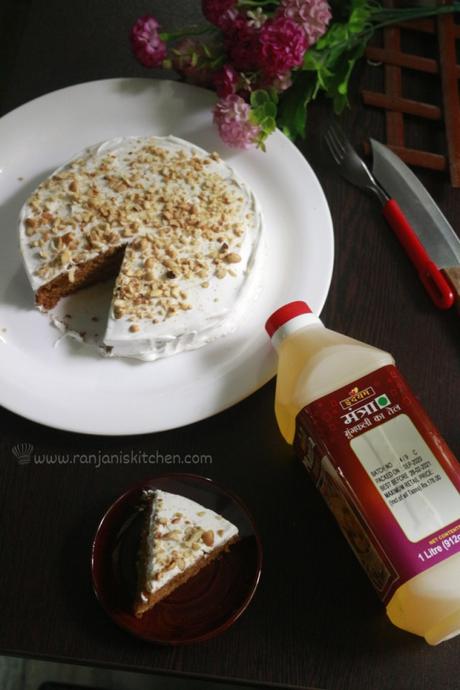 You might like these baking recipes as well
Check below for stepwise picture instructions
(Visited 5 times, 5 visits today)