If you like toasted marshmallows this recipe could be for you.
There is a fine line between cold toasted marshmallows and cold cake, not so tasty as the marshmallows get a little slimy in texture and hot cake and warm toasted marshmallows where the cake doesn't taste it's best.
You have to catch this one when the cake is slightly warm and the marshmallows are hot and sticky!
To do this you may want to cool the cake completely then recook the topping by placing the whole cake under the grill for a minute or two when it's ready to be served!
~●Did you know?●~
The marshmallow is the modern version of a medicinal confection made from the marshmallow plant.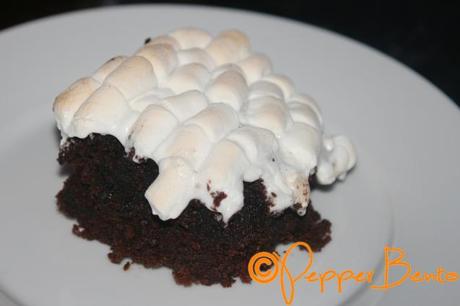 Egg-less Chocolate Marshmallow Cake
Serves 8-10
Ingredients
375g plain flour
400g granulated sugar
1 teaspoon salt
2 teaspoons bicarbonate of soda
28g cocoa powder
1 teaspoon vanilla extract
2 tablespoons cider vinegar (won't be tasted after cooking)
175ml vegetable oil
475ml water
For topping
Mini marshmallows about 300
Method
Preheat the oven to 180oc.
Grease a 9 x 13 inch pan.
Into a large bowl place in all of the dry ingredients and whisk to break up any lumps and incorporate.
Add the water, vanilla and vegetable oil, stirring until smooth and not lumpy.
Add in the cider vinegar and mix it in until fully incorporated.
 
Pour into the pan and place in the oven for 25 minutes or until a skewer inserting into the middle of the cake comes out with no sticky uncooked batter attached.
Take the cake from the oven and place on the marshmallows.
Place them on in lines to cover the whole cake top.
Place in the oven for 3 minutes or until puffed up and golden brown.
Leave to cool until the marshmallows are just warm then serve!