I couldn't help myself. I had to include the pun in the title. (: Easter always feels like the start of spring. The pastel color scheme is a departure from the heavier hues of winter and seems so cheerful and playful. Plus, what's more fun than decorating Easter eggs? Why not try something unique this year when it comes to dyes and embellishments? Just be sure to make some extra, because you'll want to incorporate these into your Easter decor: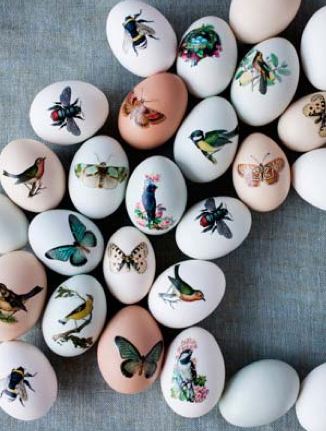 Photo via Country Living.
These eggs are simple, chic, and mess-free. Blow out your eggs (if you want to save them) and dye them, or purchase pre-blown eggs. Print out graphics sized to fit the eggs on temporary tattoo paper (available online). Then, adhere them to the eggs following the directions on the package. Visit the original tutorial at Country Living and try The Graphics Fairy for designs.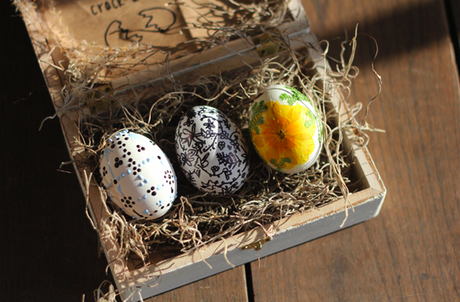 Photo via Free People.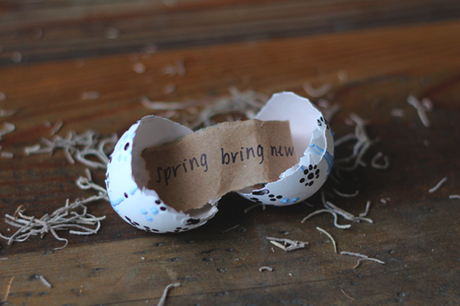 Photo via Free People.
Perfect for gifts, these adorable eggs contain a hidden message inside! The recipient can crack them open whenever they please. The eggs were blown out and decorated in puffy fabric paint, permanent marker, and pressed flowers covered in Mod Podge. Write a secret message on a small piece of paper, roll it up, and stick it inside the egg. Take a look at the simple tutorial to craft your own.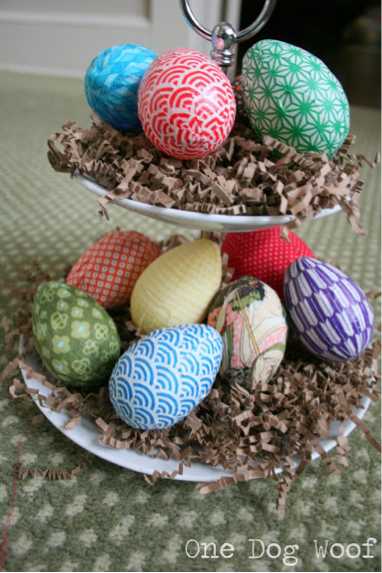 Photo via One Dog Woof.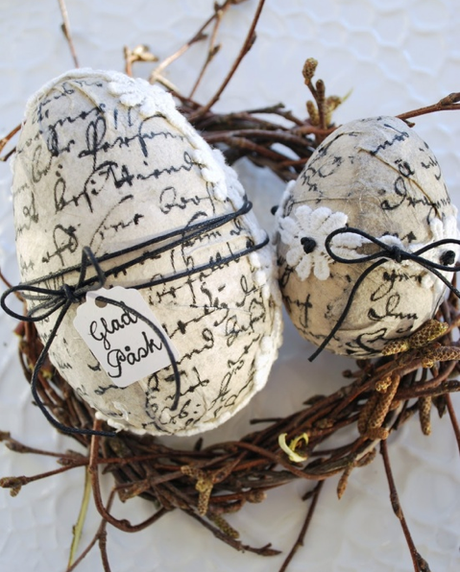 Photo via Vitt hus med vita knutar.
Make fabric and paper covered Easter eggs and display them on a tiered cake stand, shown in the top photo. Or go for a vintage look as seen in the second photo. You can decoupage anything!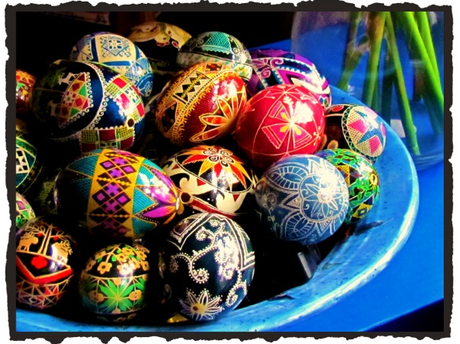 Photo via Suzy's Artsy-Craftsy Sitcom.
Pysanky, or Ukrainian Easter eggs, are made using a wax resist method, much like batik. The patterns aren't painted on, but written in wax using a kistka, or stylus, before the egg is dipped in dye. It's a process and probably more suited to intermediate to advanced DIY'ers, but worth the intricate end result. If you're up for the challenge, enjoy this Ukrainian egg tutorial.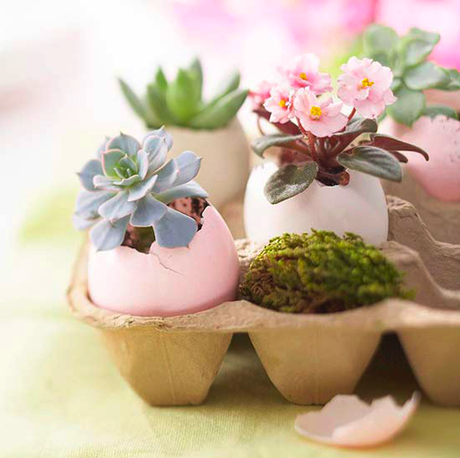 Photo via BHG.com.
Give your egg carton new life by using egg shells as planters. Cute centerpiece idea. Visit BHG.com for the decorative egg planter tutorial.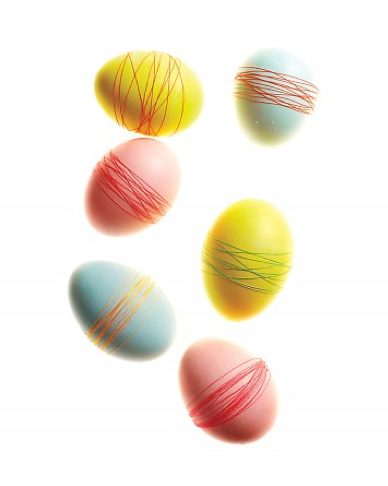 Photo via Martha Stewart.
Add a stripe of contrasting color by wrapping thread around Easter eggs. Martha Stewart has the details.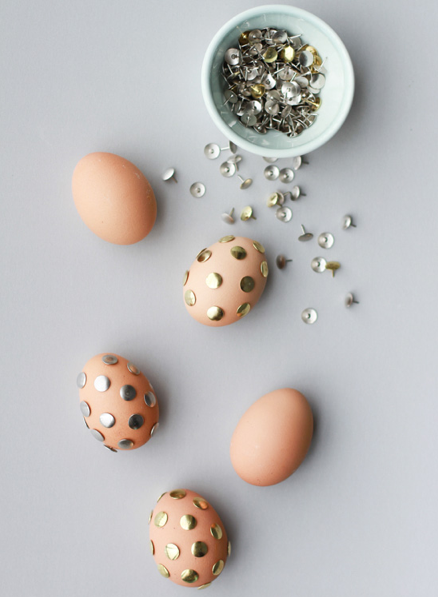 Photo via Paper & Stitch.
Paper & Stitch will show you how to make these edgy thumbtack polka dot eggs without cracking the shells.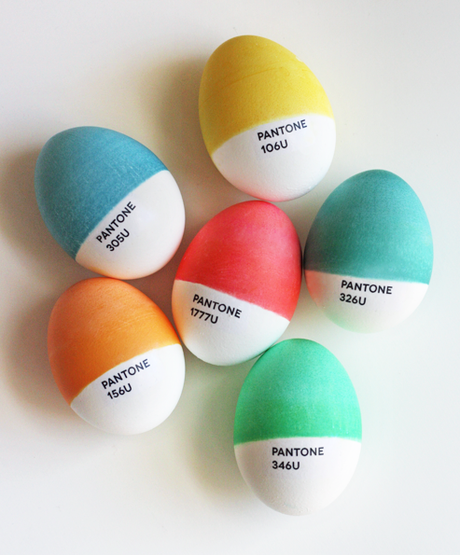 Photo via How About Orange.
Fellow design lovers might want to visit How About Orange to create DIY Pantone Easter eggs! Even the color numbers are correct.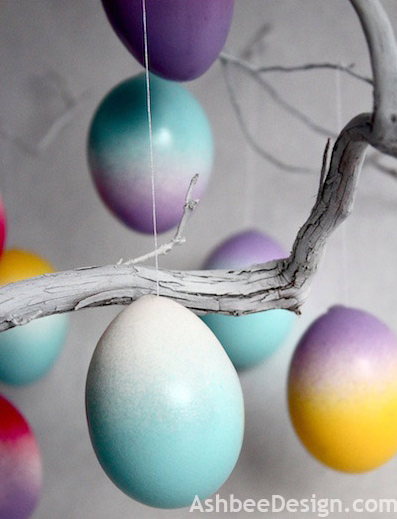 Photo via Ashbee Design.
Glue string to finished eggs and hang in an Easter egg tree. Ashbee Design features a tutorial for these ombre eggs using spray paint.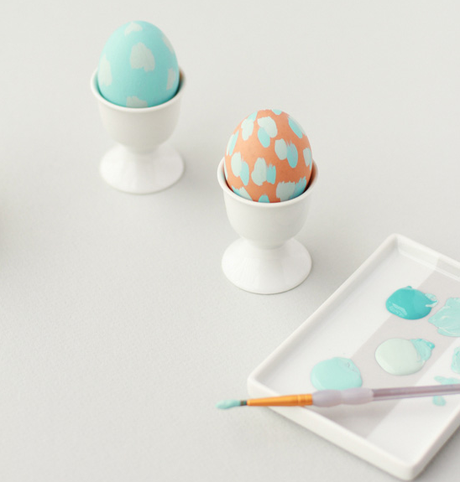 Photo via Paper & Stitch.
Pastel painted eggs displayed in egg cups.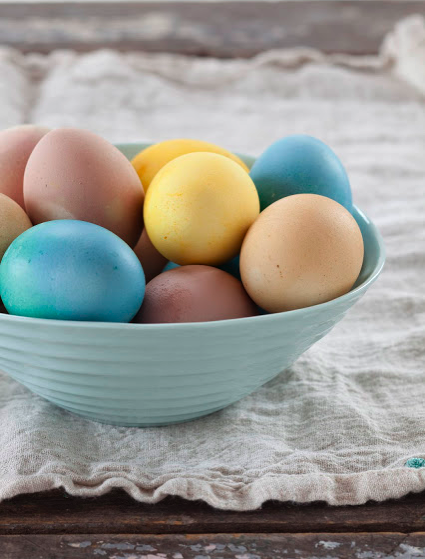 Photo via Christine Chitness.
Cook up your own all-natural Easter egg dye from ingredients such as beets, turmeric, and ground coffee. Try this simple recipe.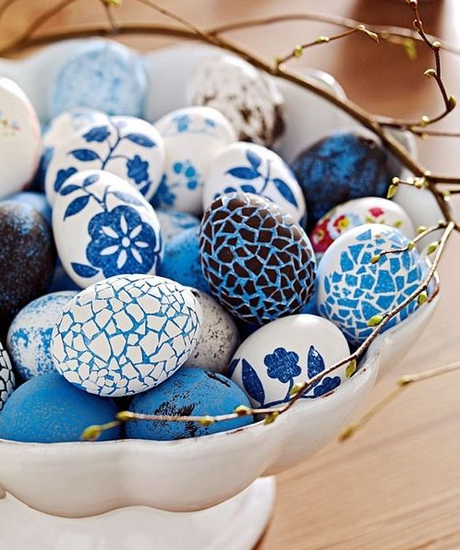 Photo via Home Bunch.
Inspired by these breathtaking mosaic eggs? Say Not Sweet Anne will walk you through creating mosaic eggs with broken egg shells.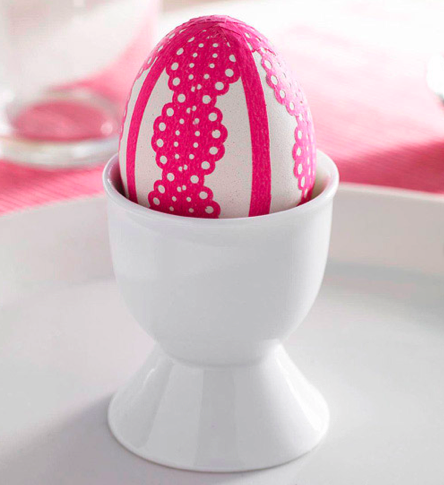 Photo via BHG.com.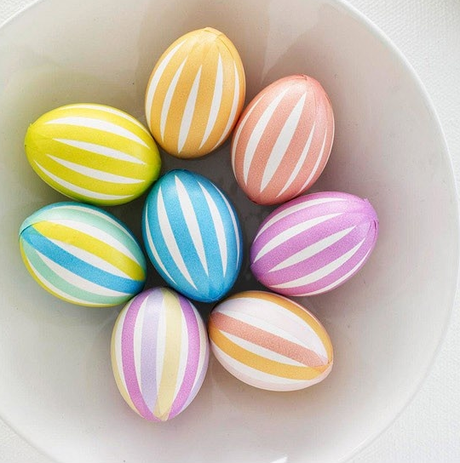 Photo via BHG.com.
The eggs in both photos above were decorated using versatile Japanese washi tape. Click on the links below the photos for tutorials.
Which designs caught your eye?