SAN DIEGO – The Republican Party has a fundamental problem. At a time when there are more independent voters than ever — including many millions of voters who are fiscal conservatives but social liberals — the GOP's image of intolerance and rigidity is like an immense dead weight dragging it down. Polls show this is especially true among young voters, who often settle on their political identities in their 20s and never change.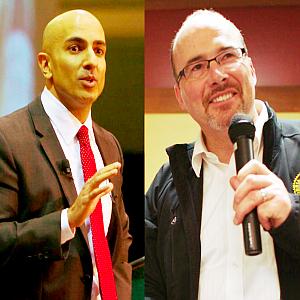 Many Republicans protest this image as vastly unfair. They cite the growing number of prominent GOPers of minority descent, such as the women who govern South Carolina and New Mexico and the man who leads Louisiana. Locally, San Diego Republicans have pointed to the future of the party by strongly backing moderate Republican Mayor Kevin Faulconer and gay GOPer Carl DeMaio, including the former city councilman's current run for Congress.
But when party voters put political Neanderthals in the general-election spotlight, they have much less of a case in claiming unfairness. This has happened repeatedly in recent years. Here are two examples:
• In Delaware, Christine O'Donnell's jeremiads against coed education and other alleged social ills destroyed her 2010 Senate candidacy.
• In Missouri, Rep. Todd Akin torpedoed his 2012 Senate candidacy with a bizarre monolog in which he asserted that he opposed abortion categorically because "legitimate rape" rarely causes pregnancy.
Now, unfortunately for those who think Gov. Jerry Brown deserves a thoughtful challenger, it could be California's turn. With less than three weeks until the June 3 primary, polls in the governor's race show Assemblyman Tim Donnelly, R-Hesperia, a distant second to Brown but far ahead of Orange County executive Neel Kashkari — putting him on track to represent the GOP in a November runoff.
Donnelly could have cruised to the runoff simply by repeating over and over that Kashkari played a key role in the Troubled Asset Relief Program — the unpopular big-government scheme that Presidents George W. Bush and Barack Obama implemented to try to shore up the economy in 2008 and 2009.
Instead, Donnelly has chosen to be a race-baiter. He has repeatedly depicted Kashkari as an advocate of extreme Islamic Sharia law because Kashkari once spoke at a conference in which Sharia finance was the focus.
This is ridiculous. Kashkari is a Hindu of Indian descent who advocates free-market capitalism — not a Muslim cleric seeking religious control of government institutions.
It is also odious, because Donnelly evidently hopes to gather votes from Californians by encouraging the idea that all people with dark skin whose ancestors hail from Asia are crypto-terrorists.
Sadly, this may be something that Donnelly actually believes. Whatever the case, Republican voters shouldn't reward his disgusting campaign. Rep. Darrell Issa, R-Vista, agrees:
"As far as I'm concerned, this type of stupidity disqualifies Tim Donnelly from being fit to hold any office, anywhere. Donnelly is no longer a viable option for California voters."
We hope enough Republicans figure this out.
More by U-T San Diego Editorial Board at utsandiego.com.