Yeah, no political insight to be found in this editorial!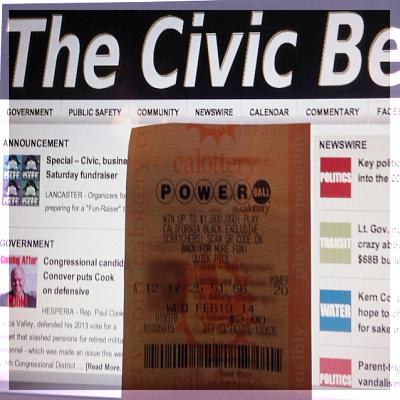 Calottery Powerball ticket for Wednesday, Feb. 19, 2014
we're talking $400 million
subscribers to the weekly newsletter
one Bourbon one Scotch one Beer
Stater Bros
And that's no campaign promise either! The Bee makes good on his editorials! Subscribers have until midnight tonight to officially subscribe – and may officially unsubscribe the next morning if the numbers are a flop! Unless of course it's the Bee's colorful local and regional content that you're really signing up for.
Yes – this is the Bee's first shameless promotional campaign, and I can't think of anything better to do at the moment – except get back to work. So get on the subscription list by midnight tonight (yes, only one sign-up per customer), and stay tuned via Facebook for the results!
Whatever money is left over will be invested into the online news operations of the Civic Bee – and all the crushing debt the Bee has accrued so far … including gas and lawyers' fees.
And remember, the Bee does not promote gambling in any way, shape or form – unless winning is the outcome!