Cukes are in season right now so they are easy to find and cheap to buy. Yippee! If you know what to do with the darn things…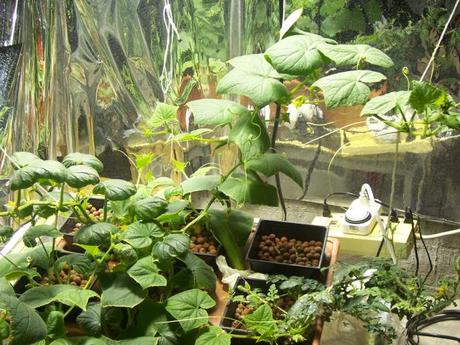 Image courtesy of mysimplehomegarden.com
Here are 5 suggestions for putting them to good use.
1. Refresh your Water.  Slice them thin and place 5-6 slices in a pitcher of water.  After a couple hours in the fridge you'll have a refreshing beverage for these nasty hot days we've been having.  It instantly perks you up, and you can shake things up a bit my adding mint leaves or melon in as well.  A nice change from standard water.
2. Shake it Up. Toss cucumbers into your morning or post-workout smoothie.  They thicken it up a bit without adding too much to the taste (a tad sweet).  They go well with berries and citrus for a little punch.
3. Persian Pico de Gallo.  This recipe is from Vegetarian Times and is a perfect light party dip.  You'll need:
2 tomatoes, diced
1/2 English cucumber or whole garden cuke, diced
1/2 small white onion, finely diced
1/2 cup fresh mint leaves, chopped
2 green onions, finely chopped
1 jalapeno, seeded and chopped
3 Tbs lemon juice
2 Tbs olive oil
1-1/2 tsp kosher salt
1 tsp dried mint
1 tsp sumac, optional
Toss all ingredients into a bowl and serve immediately (though it gets a little better with a few hours to marinate)
4. Pickles!  The process isn't as hard as you may think but it does take a little time.  Think about when you were a kid and you bit into a huge dill pickle.  Oh, so worth it.  Here's a link to the process of pickling.
5. Cuke Face.  It's not to eat, but it'll use up your crop and make you beautiful.  It's an aloe and cucumber face mask.  And it's simple:
1/2 Cucumber
2 tablespoons aloe vera gel (keep it in the fridge for an extra refreshing mask)
Peel and cut the cucumber into pieces and toss together with the aloe – use a food processor or blender to make it smooth.  Apply gently but avoid eye area.  If you have extra cucumber slices, use these to depuff your eyes while you relax about 20-30 minutes.
Rinse clean and apply normal moisturizer.  Don't you feel better?  Aloe is great to soften and heal skin, and the water in cucumber helps minimize inflamed skin cells.
Wasn't that fun? What else is in season…