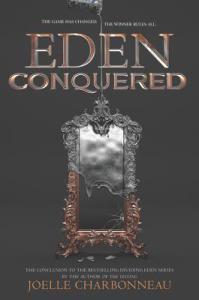 Book Cover Image: Eden Conquered by Joelle Charbonneau

" data-orig-size="265,400" sizes="(max-width: 199px) 100vw, 199px" aperture="aperture" />
BOTTOM LINE: Meh
Genre: Fantasy; Young Adult
Publication Date: 5 June 2018
Source: Publisher via Edelweiss
Synopsis from the Publisher:
"The Trials of Virtuous Succession have ended. Prince Andreus is king—and Princess Carys is dead.

But even as he's haunted by what he did to win the throne, Andreus discovers that his dream of ruling only brings new problems. The people love his twin even more in death than they did when she was alive. The Elders treat him as a figurehead. And worst of all, the winds of Eden are faltering.

But despite what everyone believes, Carys is alive. Exiled to the wilderness, Carys struggles to control the powers that have broken free inside her. And as she grows stronger, so does her conviction that she must return to the Palace of Winds, face her twin and root out the treachery that began long before the first Trials started.

The Kingdom of Eden is growing darker with each passing day. Brother and sister, former foes, must decide whether some betrayals cut too deep to be forgiven—and whether one will wear the crown or both will lose everything. "
My Thoughts: Eden Conquered is a book I read because I wanted closure. I have no strong feelings about any of the characters, and my enjoyment of reading the first novel was not high enough to ignore the large plot holes and poor character development within it. Yet, when presented with the opportunity to find out what happened to Carys and Andreus, I was curious and took advantage of it.
It turns out that Eden Conquered provides more of the same as Dividing Eden. Extremely rushed with holes the size of buses, the story moves forward at a frenetic pace – one that makes no sense and forces you to suspend disbelief on more than one instance. The characters remain weakly developed, although Carys continues to be the more developed of the two. There are one or two twists that may manage to surprise you, but the rest follows a predictable pattern. However, just like its partner in the duology, Dividing Eden is a novel meant to entertain rather than impress.
To expound upon specifics would be to give away any bit of excitement one may garner from the novel. Suffice it to say, there is the usual happenings within the story. There are battles – both external and internal. Hidden truths see the light of day. Difficult decisions made. There is the hint of a romance but no romantic triangle. Magic but no real technology outside of electric lights. Monsters both human and otherwise. Most of your questions get answers. Other than the fantastic cover (and it really is spectacular), Eden Conquered remains a middle-of-the-road young adult fantasy that fades into the background of the many, many similar novels that have come before it.












Related Stories
The Ever After proves that being a happily one takes a lot of work