EDB to PST Converter v5.0 gives a platform to extract and export mailboxes and public folder data from Exchange offline database (.edb) file into Outlook. It is a creation by SysTools that is known for its services in email recovery and migration domain. This particular product for EDB to PST file conversion promises to recover data from priv.edb and pub.edb file that is inaccessible due to database corruption, inconsistency, or issues with the file. The tool is meant for Windows based users and exports EDB file data into Unicode PST fie.
Practical Details:
Product Name EDB to PST Converter
Developers SysToolsgroup
Main Function Recover and Convert EDB to PST
Latest Version 5.0
Operating System Support All versions of Windows OS introduced till now (8.1)
Size 16.2 MB
PST Type Supported Unicode PST File
Free Evaluation Edition Available
License of Tool Personal, Corporate, Technician, Enterprise
Official Website http://www.systoolsgroup.com/convert-edb-to-pst.html
Installation 2.4GHZ processor, 1GB RAM, 20MB Free Disk Space
Installation 2.4GHZ processor, 1GB RAM, 20MB Free Disk Space
Features List:
Exchange EDB to PST File Conversion: The basic function of the tool is to convert EDB file to PST. Now, the EDB file can have either user-mailboxes or public folder database. The tool smoothly migrates all type of data from priv.edb or pub.edb file to Outlook PST.
Export EDB Data to Unicode PST: The software generates a Unicode PST file for every user-mailbox in EDB file. This means no matter what is the size of mailbox or public folder, the software successfully converts EDB file into PST file.
Process Any Type of EDB File: Any reason that is causing EDB file inaccessibility be it corruption, mounting problems, inconsistency, and password protection can be handled with the tool. The software recovers data from EDB file affected by any reason.
EDB File Scanning Option in Tool: The software performs thorough scanning of selected EDB file. The process takes a little while and ensures that complete data is recovered from EDB file.
EDB Contents Previewing Facility: The software gives provision to have a view over EDB file contents within the software panel. At the left pane, mailboxes in EDB files and their respective folders are displayed which when selected can be viewed in right panel.
There is special facility in the tool for previewing EDB file. There are individual tabs in the tool to view email body and attachments. Other mailbox items like contacts, calendars, notes etc can be sorted through navigation pane at the bottom left and previewed.
Selective Items and Folders Export: The tool includes facility to select items from the mailbox or EDB file to be exported to Unicode PST file. In addition, there is choice to select folders that have to be copied to PST file.
Ignore System Folders from Migration: While exporting the software gives option to exclude the system folders that saves the overall time for EDB to PST conversion. System folders include favorites, free/busy data, recoverable items etc
Split Resultant PST File by Size: The software has an optional service of splitting PST file. If the mailbox size is large, its output PST file can be divided by size parameter (Minimum: 1GB and Maximum: 45GB)
Note: For lower editions of Exchange (example 2003), the software supports recovery of streaming database stored in EDB file.
Testing Environment:
EDB File Type Priv.edb (Exchange Private Folders)
Size of EDB File 1.83 GB
State of EDB File Inaccessible, Reverting Error -1018 JET_errReadVerifyFailure
Copy of EDB File is Available for Recovery

EDB File Name Mailbox Database.edb
Open the tool and click on "Add File" button to start up the process.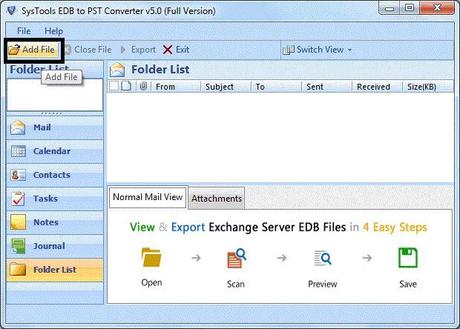 A Select Path dialog box will appear on screen. Click on "Browse" button in order to select an EDB file from machine.

Select EDB file from machine and click "Open".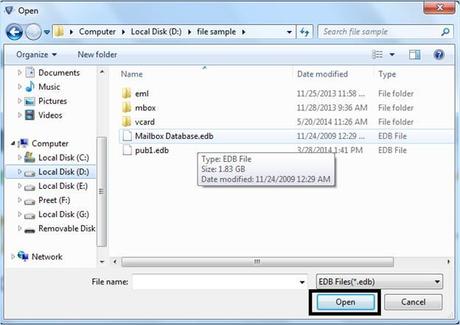 Click on "Add File" button to start EDB file scanning process.



After the scanning process is finished, EDB file contents will be displayed within the software pane.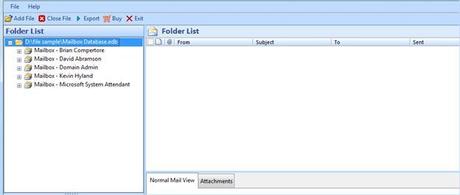 Click on "+" button to expand a folder and view its contents: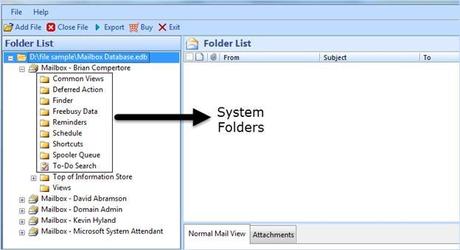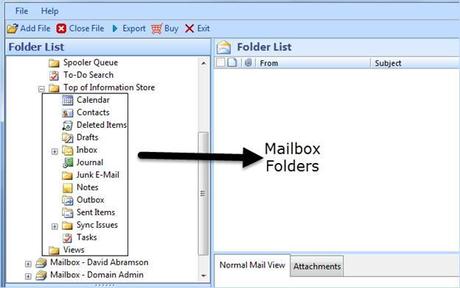 Click on any of the folder to preview its contents in right-side of the software pane.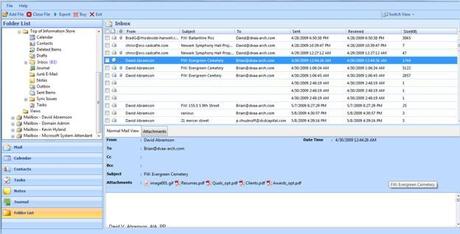 In "Normal Mail View" tab, body content of the EDB file can be previewed.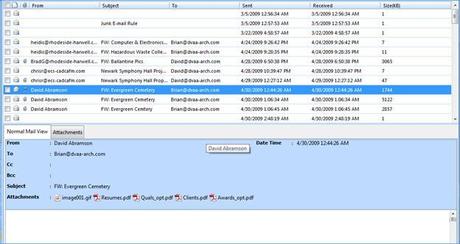 In the "Attachments" tab, the attached file to selected email can be viewed.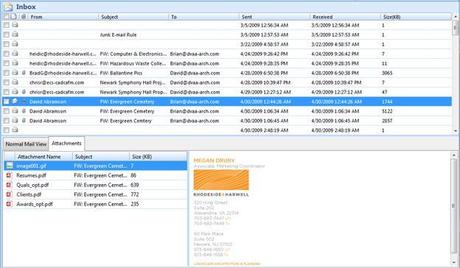 Also, you can double-click on any of the attachment and its enlarged preview will be available.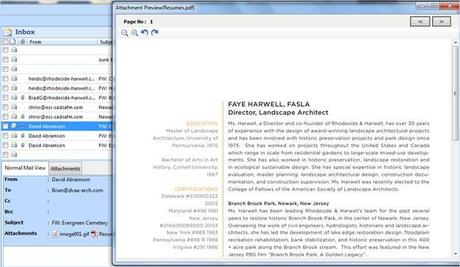 Select items from the mailbox, right-click on them, and choose the "Export" option.

For entire EDB file content export to PST, choose the "Export" option in the menu bar.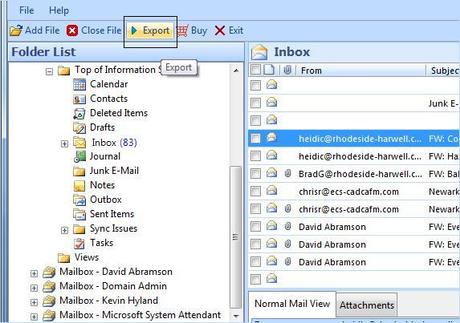 A dialog box named "Export Options" will appear on screen. Here, there are three major steps to be followed:
Step1) Select the folders that are to be included in export process. For including folders, enable their check-boxes.
Step2) Enable the Split PST option. Here I am not enabling split PST option as my file is of 1.83 GB and I don't need to split it.
Step3) Define a destination location on machine where the resultant PST file has to be saved.
Note: At the bottom of screen, enable check box for "Ignore System Folders" if you don't want them to be exported.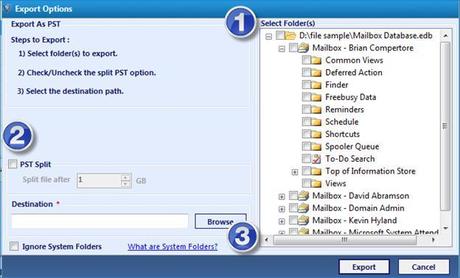 Software will generate a CSV file with details of mailboxes and the count for items that have been exported into PST. To save it on machine, click on "Save" button.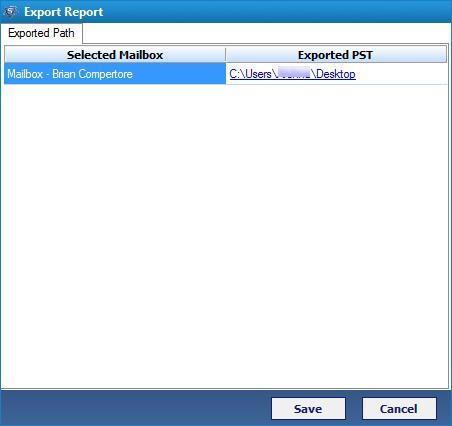 To ignore CSV file saving, click on "Cancel" button. A confirmation message will pop up on screen. Click "No" to confirm that you do not want to save the CSV report.

Analyzing the Output:
• Four mailboxes for selected for export process. For both the mailboxes, separate PST file has been created.
• Emails and its email properties are preserved. Attachments are exported along with messages.
• Folder hierarchy has been maintained by the software. Less than 1 minute has been taken by tool to export EDB file of 1.83 GB to PST files.
Benefit from the Tool:
However, there are native solutions provided by Microsoft to export mailboxes into PST file, but moving entire database into PST file is simpler with third party EDB to PST converter.
Native solutions do not give facility to export public folders into Outlook PST file. So it is a reason to invest in commercial tool to convert pub.edb file to PST file.
Migrating EDB file mailboxes gives the benefit of moving them to different Server, working around planned/unplanned downtime, maintaining brick level backup mailbox database etc.
Final Opinion:
Although Exchange administrators try their best to maintain a safe environment for database and the database files on disk, but there always exist a possibility that any of them get inaccessible. To deal with various EDB file data inaccessibility issues, it is better to stay equipped with solution that helps to extract EDB data to PST file.
SysTools EDB to PST Converter is a great choice to make for migrating mailboxes and public folder data into Outlook PST. The additional benefits offered with the tool like split PST and STM data restore to PST makes the tool worth investment.
My ratings for the tool is 9.6/10