A company changing the way we view trash and waste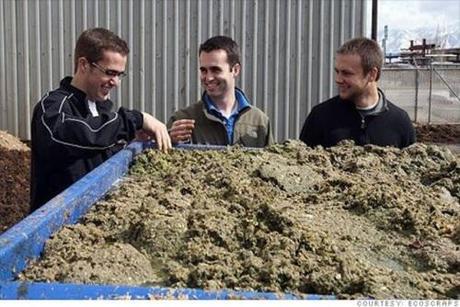 From my column at Communities in The Washington Times
WASHINGTON DC, February 26, 2013 – Waste is rampant in our society.  Americans produce over 200 million tons of trash every year- enough to fill a major league football stadium twice a day.  According to some studies, almost 45% of municipal solid waste in landfills can be recycled.  Many companies have seized on this opportunity and are literally turning trash into cash.  But money is just one component; these companies not only want your cash, they want to change the world.
Food waste in the U.S. is an alarming problem.  A recent study estimated that nearly 40% of our food – close to $165 billion worth—goes uneaten.  Not only is this a terrible waste, but food is also the largest single component of solid waste in American landfills, and generates 8 to 9% of the total pollution in the U.S.
In 2010, while at an all-you-can-eat restaurant, Dan Blake, a then- business student, saw how much food we waste and decided to do something about it.   "I was intrigued by the idea of starting a business that utilized food waste to manufacture a different product," he says.
Why not compost?  After a lot of dumpster-diving, experimenting with composting processes, and creative use of an abandoned building, Blake came up with EcoScraps: compost and other lawn products made mostly out of discarded fruits and vegetables.
EcoScraps basically sells companies like Costco and now Target back their trash, while reducing food waste, and helping the environment.  Here is how it works: EcoScraps contacts a grocer or retailer and offers to haul their unsold produce for a fee.  Depending on location, EcoScraps transports the waste to one of their processing facilities around the country, where it is composted and packaged for sale.
As EcoScraps began to grow, it partnered up with Costco in a pilot program where Costco gave EcoScraps unsold fruits and vegetables that it would otherwise have thrown in the trash.  EcoScraps then processed the produce and sold it back to Costco as compost to sell in its garden department.  EcoScraps announced a similar contract with Target last week, which will make EcoScraps products available nationwide.
According to their website, to date EcoScraps has recycled over 15 million pounds of food waste, reduced over nine million pounds of methane, and collected what otherwise would be trash from 96 outlets.  This is the equivalent of reducing the emissions from 845,000 cars for two weeks.
EcoScraps states on its website that it wants to start a composting revolution.  Instead of aggressively marketing its product, EcoScraps wants to market its philosophy.  It asks visitors to its site to network, tell their friends, and get involved.  "We care about the environment and doing what's right for our planet," says EcoScraps CMO, Lance Archibald, "food waste is a huge problem and it is very harmful to the environment.  We want people to not only be aware of this problem, but to understand that they can all make a difference.  We want people to understand that they can make a positive impact.  We want people to feel good about what we are doing and want their support to help solve this food waste problem in our country."