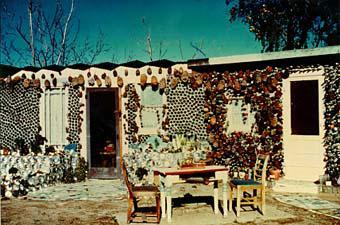 This week the Mercedes-Benz F-CELL Drive Eco-Trek checks out interesting green news along the Hydrogen Highway in California. Watch all episodes here. The bottle village looks pretty interesting. It's in Simi Valley, so you can throw in a visit to the Ronald Reagan library all in the same day!
Bottle Village in Los Angeles
Grandma Prisbey's Bottle Village is a protected landmark with structures built out of recycled bottles. It is an impressive expression of transforming discarded items and sorrow into something more. Bottle Village – so it says on its website- is not only a one of a kind, quirky, fun, village but is a brilliant approach to recycling and shed making. Bottle Village is also a bold and personal statement to the importance of the creative act in everyday life.
Portrait: Dr. David Blekham – Professor at California State University
Dr. David Blekham, is an expert in the production of hydrogen. His has a hands-on approach to teaching and his students have built a fuel cell powered racer that will compete with other alternatively powered cars in a race this year. Dr. Blekham took the initiative for the university to build a hydrogen fueling station right on campus.