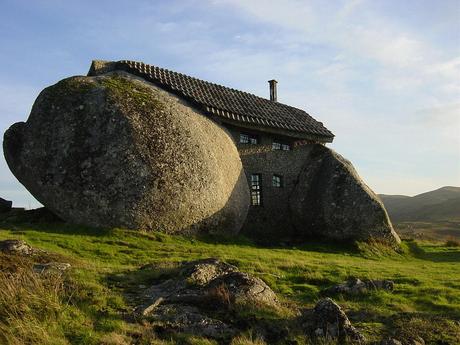 In this week's episode of Eco-Trek (the fourth edition) the crew reaches its final location in Europe: Portugal. The stone house is particularly interesting. Other highlights include:
Poem Paved Bike Path:
The bike paths wind around the riverbank in Tejo River in Lisbon display the poetry of Portuguese writer Fernando Pessoa. The project was designed by the municipality of Lisbon to promote urban cycling.
Interview with Eco-Architect & Designer Pedro Campos Costa:
Cardboard is a resourceful material being used widely to make a clean green statement. Designer Pedro Campos Costa who is best known for his design of the extension of Lisbon's Ocenario, created an intricate installation within Lisbon's LOW Bar. The glue-free cardboard creation acts as a seating unit, a shelving unit and is a remarkable work of art. Marcel Brunken owns fabrico infinito, a shop for alternative design that offers the workd of Pedro Costa.
Stone House in Portugal:
This eco-friendly getaway is wedged between four large boulders in the mountains of Fafe, Portugal and is a spectacle of green design.