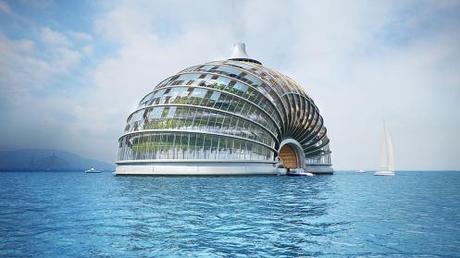 How does the largest country in the world deal with it's far flung environmental challenges? Russia envisions Eco-City 2020, an underground city entirely powered by the sun for more than 100,000 people. The architectural studio AB Elis in Moscow has conceived of the city "to be built in the crater of a defunct diamond mine in Siberia. The new city is designed to be divided into 3 levels with a vertical farm, forests, residences, and recreational areas."
Another such project is the The Ark hotel, designed by Remistudio in connection with the International Union of Architects' program, "Architecture for Disaster Relief." Russian architect Alexander Remizov believes that his floating "slinky," which can hold up to 10,000 people, can be used for multiple purposes.
Check out the video below for more. Next week the Mercedes-Benz F-Cell World Drive is expected to have crossed Russia and the three B-Class F-Cells will return to Stuttgart, where they started their journey on January 29th. We'll bring you last episode once it becomes available.

[Image]