I finished this painting last week and finally have photographed it to share with you: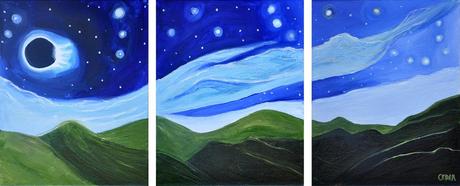 Eclipse Over Emerald Hills
Oil on Canvas
10″ x 24" (Each canvas is 10″ x 8")
© Cedar Lee, All Rights Reserved
I wanted to do another 3-panel painting of a panoramic landscape and sky with an eclipse in it, but this time I chose to restrict the colors to deep blue, turquoise, and rich emerald greens. My favorite part of this one is the wispiness (is that a word?) of the clouds reaching across the sky. I like how the vapors seem to be twisting as they move through the air.