"Self" Diluted Acrylic & Ballpoint Pen on Wood 2010
My work has been featured over at eatsleepdraw.
I originally used it in the post "Who is Considered a Self-Taught Artist?". I used myself to ask and answer that question.

This piece came about when I decided to participate in the Box Heart Gallery exhibition. Though I didn't get selected, it marks the first piece I consider a rebirth of my portfolio and how I work. Done after leaving the School of Visual Arts, I remember thinking this was the start of something more me and more of what I wanted to do. See, I hadn't really used my time while in school to make art that I actually enjoyed creating or wasn't for an assignment. I mostly dabbled in "line work with little color" type illustrations during my first year at SVA. No one made me do it, I just did that on my own accord. They were different than the work I did in high school which were usually hyper detailed paintings or drawings, common drug of choice being straight acrylic on canvas, little water. In my line work I'd draw the piece as I usually do (like the ones I've shown you in the Process of Illustration category), go over it with micron pen and erase the pencil marks. I was pretty strapped to that micron pen.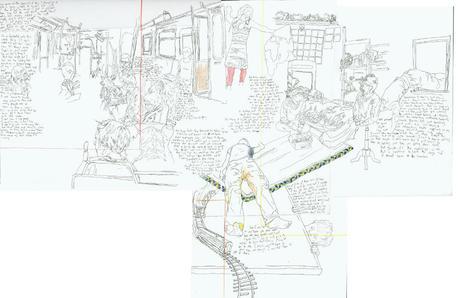 Barren by Jardley Jean-Louis 2010
When I left, there I was with all this free time and I wondered what was it I wanted to do cause the line work wasn't it. At the time, I was also learning about style. I read and listened to different creatives say an illustrator is supposed to have a style and something for people to remember you by. Well, it's not that that was the only advice I received, it's more closer to: that's what my ears listened to and what I constantly thought of. Until I didn't. It's like only remembering the negative crap people say about you and rarely the compliments. I remember feeling style was something I'd have to think and stick to. I took it as, if you wanted a job, you'd need to have a consistent style. And well…I could understand that. Not having a consistent style could influence an art director to think you unexpected and therefore not hire you. So, when I really started to mull over this idea of "style", I saw it as both something I wanted and felt confined by. That being aware and actively looking for a style would be the death of me and my creativity. I imagined that years later, because I was stuck on everyone remembering me for a certain style, I'd just do work in that way even while having a miserable time. And honestly, I'm someone who would do something like that until I snapped.
I do think it's best to have a cohesive portfolio and works that are clear to each other. It's fairly common for me to feel that if there's a scatter of different styles or methods in a portfolio, then I'm not seeing work by the same artist or I'll question if this person is a fraud who ripping from other people, when I'm looking through work on places like Society6. You get one piece that's very anime, another is cartoony, another is photo-realistic. It's too many.
I think you gradually get there, and not by forcing it to happen. Just do the subjects you want that are important to you and your natural way of creating will appear. Marshall Arisman wrote up a list of things and objects that were important to him to create from after years of toiling at pleasing everyone else and his way started to appear. Don't expect it to come overnight. I don't care how much you want to apply for that illustration job you've been looking at. What you think is strong you add to your portfolio. Check out why you think it is though and get feedback if they flow. I've enjoyed my time doing it in that way, and if you look at my portfolio I think you'll feel that enjoyment too. I've read that a style should be something that no matter what medium you use for each piece, it's always present. Maybe that's a goal to have.
It wasn't all roses and gravy where right from the start the "Self" piece was created cause I decided fuck all that feeling confined and being dictated by style nonsense! No, for some moons there, I really thought "ahh it looks like I like creating pen work, shading it, and watercoloring different parts with one color". I really thought I'd do that my whole life! Even though I knew that wasn't realistic since I tend to feel trapped and get the urge to start something new. I often wonder if other creatives have a set style they never get tired of especially those portfolio that have the same style for years. Mine took time. You'll probably note that some of my pieces aren't handled in the same way, but I think the essence of me is still there. Take "Self" for instance or another piece created around the same time "Congratulations"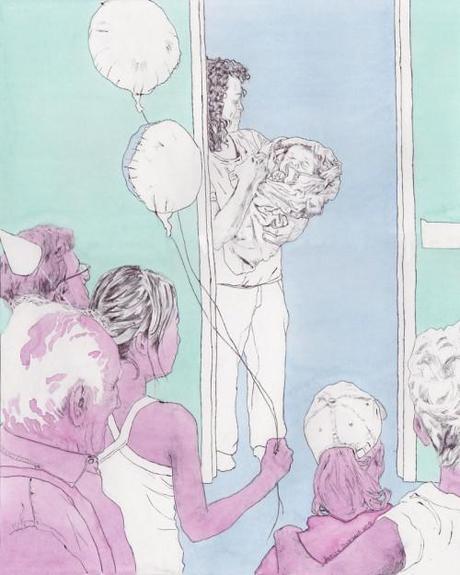 Congratulations by Jardley Jean-Louis 2010
See what I meant by the ballpoint pen drawing and single color? Then take a look at a piece where I've evolved since then.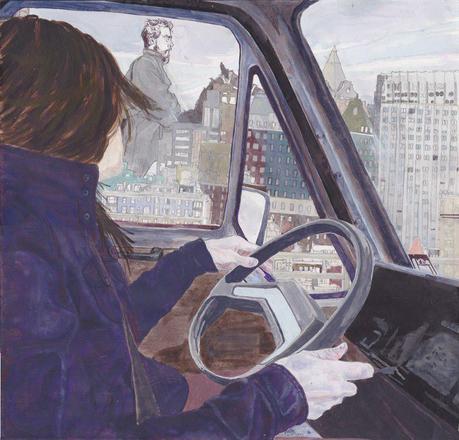 Clouds by Jardley Jean-Louis 2011
I especially use "Clouds" as a reference because it marks the first time I did some collage work. About 95% of the painting is made by my hand, but I did rip paper from magazines to fill out parts like the wheel which I then painted over. I was hemming and hawwing about it because I was afraid other people wouldn't recognize me in it. But, I realized if this was what I wanted, I would find a way to make it work. I stepped away from ballpoint pen drawings when it started to feel stifling and there was something else I wanted to be doing. I started wanting the colors to speak for the outside edges of an object, and not these deliberate pen lines.
Sometimes I still question if my portfolio is coherent enough, if it's got a style. But, I don't let that stop me from using different mediums if I want, or from trying out a different approach. Enjoy yourself first, and do the projects and crafts you want to do. You'll find a way to make it work. You don't HAVE to be chained to a style because you liked it 10 years ago oh and by the way other people liked it and it sold too. You'll definitely feel miserable then. Switch it up when it feels like it's time and use that time on those cravings and projects you get excited over trying out. It's why you're a creative.
Happy Wednesday.