Cecil Street in South Melbourne was a-buzz last Thursday night as food bloggers, media and diners descended on South Melbourne Market to cruise the recently opened restaurant strip.
With the latest addition due to officially open in days, the precinct now offers diners a choice of Chinese, Spanish, Turkish and Italian cuisines, seafood and street food.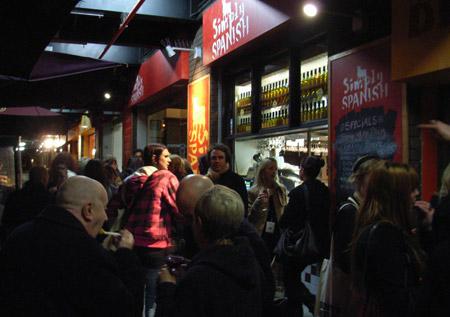 Food, wine, beer and music - last Thursday night at South Melbourne's Cecil Street restaurants
I'm personally delighted with the development as it's just a gentle block's stroll from home and I've already beaten a path there since the newer restaurants opened their doors late last year.
On Thursday it was a smorgasbord as we went from restaurant to restaurant sampling standards, special and signature dishes.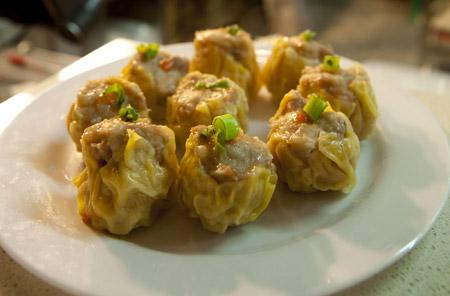 Linx food for starters
We kicked off at the market's LG Kitchen Cooking School with the first beverages of the night and some dishes from Linx BBQ and Yum Cha. It's run by Ngoc Linh Chau, a Vietnamese boatperson who arrived in Australia at 20 with nothing to her name. She now runs eight restaurants. At Linx, her chef Sunny Chen, another boatperson, served up a range of Chinese food – Peking duck, pork buns, BBQ pork and other dishes. The restaurant has been a market favourite for some time and there are always people tucking in or waiting for their takeaways when I go past. I often stop to admire the burnished cooked ducks hanging in the window. I think they are trying to lure me inside yet again.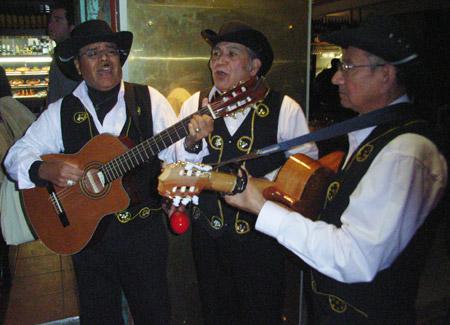 Dinner music
Next door we were serenaded by an enthusiastic trio at Simply Spanish while we tried chorizo, heavenly battered prawns and a more-ish Spanish rose. Leno Lattarulo's large paella pan has been a familiar sight on the Cecil Street pavement for some time and was delivering a tempting seafood paella.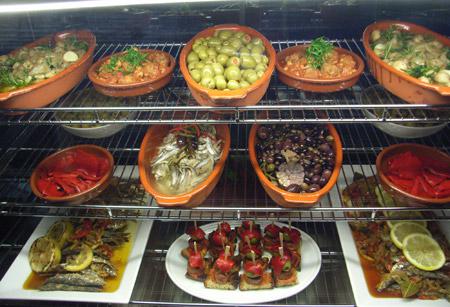 Tapas aplenty in the new Simply Spanish bar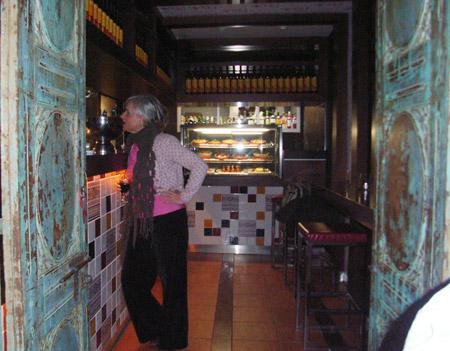 The newly finished bar at Simply Spanish
We've often stopped by for sangria and tapas and took the opportunity to preview the latest addition to the premises – a bar for those wanting maybe just a drink and one or two tapas. It's a smart, sophiticated little area with a chiller cabinet filled with tempting dishes.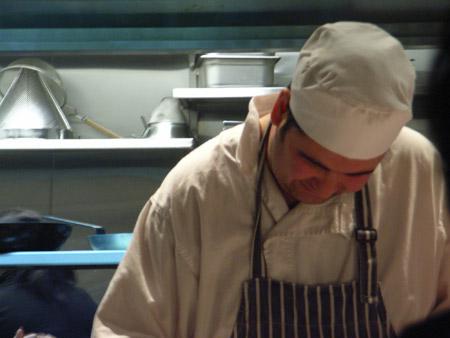 The chef at Koy was kept busy all night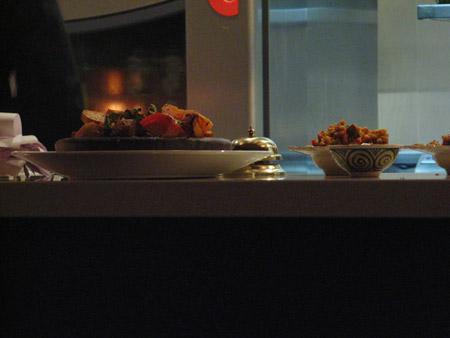 The Koy food kept coming - and coming...
Ever since Alan Aksoyoglu and Robert Ricks opened Koy late last year, we've been regular customers at this Turkish restaurant. I think we've probably tasted every dish on the menu, often leaving it to manager Brett to recommend what's best or what's new. This time we had suçuk (grilled meatballs) and manti which are like a Turkish ravioli.
On the street food side, Chidam was cooking up her gözleme. These are flat breads folded envelope-style round a filling and grilled both sides on the barbecue, My favourite is the mince filling and I'm actually sitting here right now wishing I had a wedge of the tasty fare.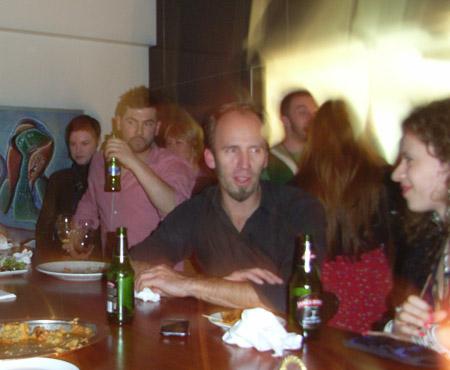 Koy's Robert Ricks, in the pink shirt, clearing tables
Koy was really rocking and it's great to see their village-style food reaching a wider audience.
Oliver Buenaventura might be Philippine-born, but he has a flair for family-style Italian cuisine. The Italian Brasserie was looking smart with red and white check tablecloths and Nonna-style curtains at the side windows, softening what was earlier an almost clinical décor.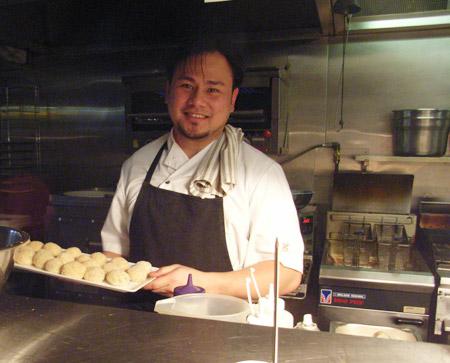 The Italian Brasserie's Oliver Buenaventura
The food was a little slow in coming. However, when it arrived the calamari was tender, the chilli mussels nicely warming and the bruschetta tasty. We've brunched there a couple of times so it was a good opportunity to sample from the wider traditional Italian menu. Oliver's street food varies. Currently there are two soups on offer.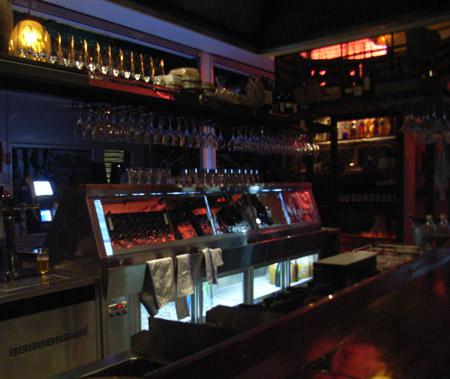 Claypots Evening Star - still a few details to attend to before food service begins
Renan Goksin's Claypots Evening Star has been a long time in the making. It was originally due to open last year but various hitches held things up. In fact when I checked it out a few days earlier, it was still very much a building site. But suddenly, there it was, a stylish bar complete with piano, clever lighting, and chiller cabinets waiting for the food to arrive. Diners will sit communal style along the bar on fairly high (for shorties like me) stools with super cool barramundi-skin seat coverings. And 10 out of 10 for the handbag hooks under the bar!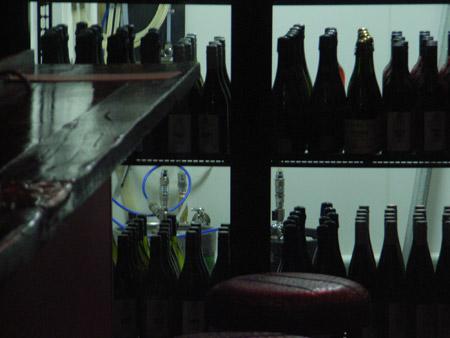 But the drinks are already cooling...
The restaurant won't open for a few days till everything is completed and working. The gas has just been hooked up and the pilot lights were running to ensure the gas flow is constant. Renan invited me to fire up one of the burners as a sort symbolic ribbon-cutting. There will be seafood, daily specials and mezze dishes. Take-away and finish-at-home food will also be offered and the on-street cooking will feature chilli crab. My local food blogging friends are already organising a gathering there once the food starts coming off the grills.
Of course the beauty of the whole restaurant precinct is food will be sourced from the market itself. Reassuring to have such fresh produce and other provisions available a few metres away.
Getting there – three trams service the area. The 96 stops at the rear of the market, 112 goes through Clarendon Street a block in the other direction, stopping at York and Dorcas streets. The 1 stops on the corner of Park and Cecil. Melways 1C Ref E11. There is ample parking at the market.