We rolled into The Strip District of Pittsburgh before noon on a Saturday. It was Chris's birthday and we were looking to have a great time, enjoy some tasty food, and check out the shops. I had been to this area of Pittsburgh in January of 2010 and loved it. I was looking forward to exploring the area together.
After parking the car, quite a feat I might say due to limited parking, Chris spotted a doughnut shop about a block off of Penn Ave where the main strip is located. Peace love and little doughnuts is a small place where they make small, fancy, doughnuts. Chris ordered 3: sugar coated, chocolate frosting, and bacon! Happy birthday to Chris! How often do you get to eat a bacon topped doughnut?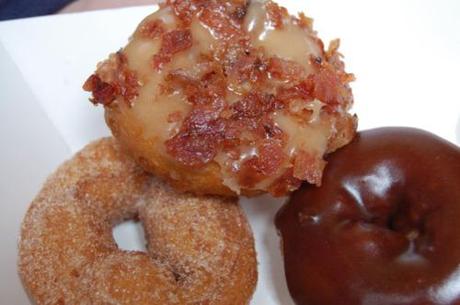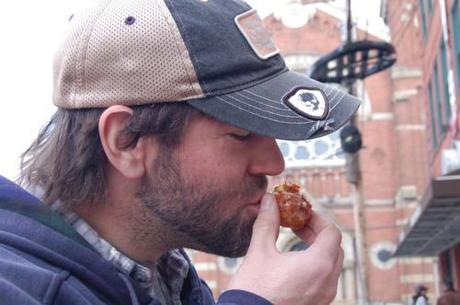 From there we milled around Penn Ave stumbling across Reyna Foods and their unbelievably delicious taco cart. Many of the food markets have food carts out front where they tempt passersby with fresh made foods from their store. The Reyna taco cart is no exception. The smell was mouthwatering and the very long line made it obvious just how popular the tacos were. We waited our turn and ordered one steak and one pork taco with all the fixings.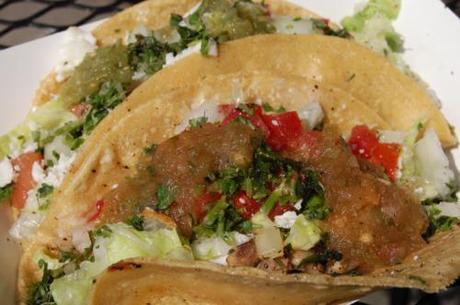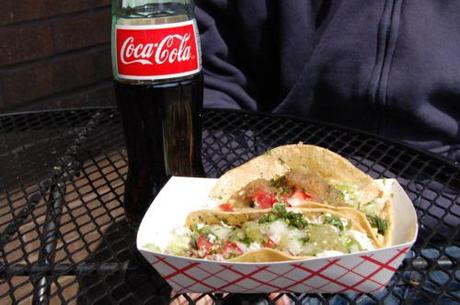 Next it was on to food market after food market. We grabbed a quick peperoni bread from another street vendor pedaling his goods in front of a bakery as we made our way to Wholey Seafood down the road. Wholey's is home to a wide selection of seafood, traditional meat counter, and Andy's sushi shop. It truly is a sight. One look at the gulf shrimp and tuna steaks I knew we'd be taking that home in the cooler. Chris laughed when he saw the whole fish lying on some ice. "It looks like Pussy from the Soprano's", he said. After having eaten doughnuts, tacos, and pep bread neither of us were hungry so we held off on a sushi roll for later.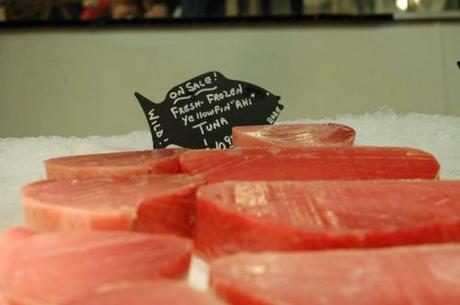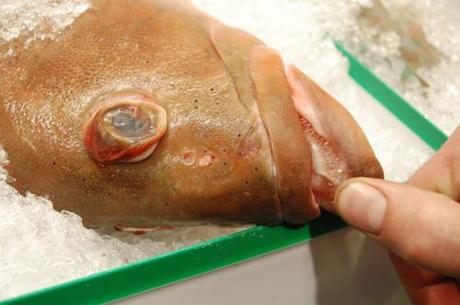 At this point in the afternoon it was time for a beer. We headed over to the Pittsburgh Public Market to check out the vendors and try some beer from East End Brewing Co. The variety in market vendors was impressive. One person was selling artisan pasta that looked beautiful, others offered handmade sausages, cheese, and sweets. At the East End Brewing Co. booth we tried four of their beers on tap. We picked up a growler of the East End White, a Belgian White, and a t-shirt as a souvenir.
The food consumption continued with a sushi roll from Andy's Sushi Bar housed inside Wholey Seafood. The fish was so fresh, the sushi was delicious. Completely gorged we walked off our food coma checking out several more food markets including Pennsylvania Macaroni Co and Stamoolis. The variety of food in all the food shops throughout the strip is amazing.
Our time on the strip was finished off with a trip to The Primanti Brother's sandwich joint. We enjoyed a couple of beers, had a pastrami sandwich, and topped it off with some cheese fries. It was a great way to wrap up the day.