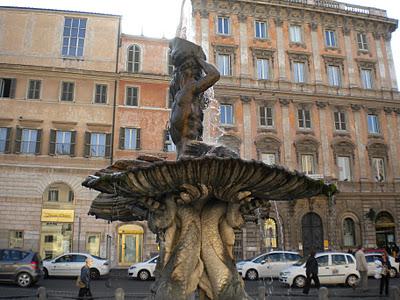 Bernini's Triton Fountain, in Piazza Barberini
When eating in Rome, the most authentic Roman food is found in the Trattorias and Osterias. They serve all the classic dishes the old fashioned way.  Some have a charming terra cotta decor to enhance your experience, but others, like the Osteria Romana, rely entirely on the food.
You wouldn't notice this place walking by; it's hidden in what looks almost like an alley (Via Boccaccio) around the corner from the Piazza Barberini.  We were directed to this place by one of the women working at the Hotel Majestic, after the first recommendation by the concierge looked sketchy on the trip advisor reviews.  We returned to the desk and asked for someplace for Roman food, rather than a pretentious "ristorante" catering to upscale visitors.
This Osteria was exactly what I was looking for.  We had a bottle of Castelgreve Chianti Classico which was so smooth I didn't notice how much of it I'd had until much later.  I ordered the Saltimbocca (literally, "jump in mouth"), thin sliced tender veal with prosciutto and fresh sage.  It was perfect.  As a side dish I had Carciofi (artichoke) a la Romana, an entire boiled artichoke (without the outer leaves) covered in olive oil and herbs.  Delicious.
For dessert I had the classic Tiramisu (throw me over) with an espresso macchiato.  I could eat this meal every day for a month and not get tired of it.
As if these culinary offerings were not enough, we were treated to the comic stylings  of our crazy waiter.  When he brought the steak knives he approached from behind my Dad and mimed stabbing him.  When the place got too noisy he screamed at everyone to shut up.  And when he brought the milk for my macchiato he had a plastic boob pop out of his vest and he squeezed it in the direction of the milk pitcher.
These antics reminded my parents of the New York delis at which waiters virtually throw the food at you, prompting my Mom to ask, "did you train in New York?"  His response:  "No, Chicago!"  And he mowed down everyone in sight with an imaginary machine gun.
A memorable evening.