Easy tips for Monsoon Hair Care : Guest Post
The eternal worry that troubles one during Monsoons is infinite Bad Hair Day. The dampness somehow seems to stick to the hair like flies to the pile of dung! Wouldn't you like to be a diva that has impeccable hair all year long, no matter what the season is? Though it's a bane to have frizzy or not-so-manageable hair, however the trouble is going to increase during rains. Come what may, just glance through these easy tips and try to implement :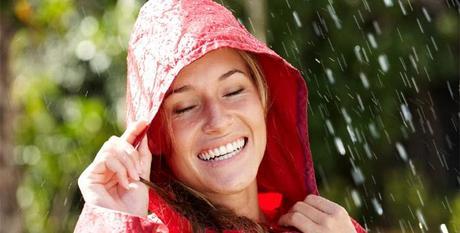 ●

  
Avoid all the hair styling products, because those products would make your hair greasy and you wouldn't want that, would you?
●

  

Try to oil your hair once a week to remove the dust and dirt.
●

  

Make sure to always wash hair with a mild shampoo when it gets wet in the rain, so as to avoid dandruff.
●

  

Dandruff remains a big problem in monsoon. Use the best anti dandruff shampoos from major brands to keep this concern at bay.
●

  

Don't comb hair when it's wet, because at this point of time the roots are really fragile and would break off easily.
●

  

Keep your hair as dry as possible. Yes, that means you would have to avoid the wet-hair-look this monsoon, no matter how sexy it looks.
●

  

A little conditioner will take you a long way. Your hair needs pampering and do moisten it to the right degree with a good quality hair softener.
●

  

Drink plenty of water, because your hair needs that! Yea, even if it's raining lions and tigers outside, your system needs hydration.
●

  

Have a healthy diet which is protein rich. Eat fruits and vegetables. After all, you are what you eat!
●

  

Don't go for hair straightening, smoothening or any kind of heavy-chemical based procedures. Because your hair matters!
●

  

Whip up a curd-honey-eggs pack at home and apply it from roots to tip for half an hour. Wash thoroughly to find manageable hair.
●

  

Indulge in hair masks and hair spa this monsoon. Look out for monsoon special treatments and offers!
●

  

Trim your hair – go for a bob or a pixie cut! Shorter the hair, easier to manage! Any day, any time.
Next time you step into shower, make sure you follow at least half of the tips listed below. Don't let monsoon stop you from letting your hair down. Mousse up your hair and hit the road! Also, don't forget to carry an umbrella. Duh!
The Guest Author : 
Author Bio:
Shweta Shah
is an English Literature graduate with myriad interests. As a Content Writer for Dealstan, she writes prolific online shopping deals and engaging blog posts.