my love hate relationship with cherries began last summer. i love cherries, they hate me. it was very depressing to find out in july that i had acquired an allergic reaction to them :( i thought i would no longer be able to eat anything cherry related. however, i found out cooked cherries do not have the same reaction. they may not taste as good as fresh cherries but at least it's better than nothing!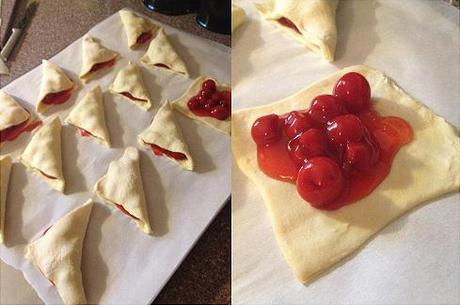 this is a super easy dessert to make! all you need is:
2 sheets of frozen puff pastry1-2 cans of comstock cherry pie filling (if you don't like cherries, you can always go for apple pie filling)1 can of vanilla frostingparchment paper (to lay the pastries on, on top of the baking sheet)
first things first, thaw the frozen puff pastries at room temperature for 40 minutes. once they are unthawed, unfold the pastries. cut the pastries in thirds the long way and then thirds again but the opposite way (you will have 9 squares once the pastry is all cut up). place the parchment paper on the baking sheet, so the pastries don't stick to it. one by one take a square of the raw puff pastry dough and stretch it out a little bit, place it on the baking sheet, and add some cherry filling. i usually place the filling in the middle of  the pastry (about 6 cherries in all) so that when you fold over the top to make a triangle, the filling doesn't spill out while baking. once you have all the pastries filled and folded over, place in the oven at 400 degrees for about 20 minutes or until golden brown.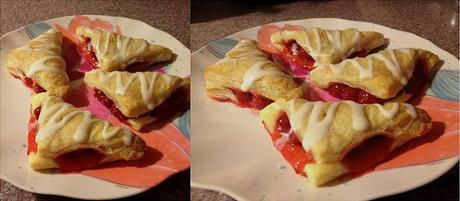 now that the turnovers are baked, take your vanilla frosting and put about 1/4 of it in a cup and microwave for about 20 seconds to make it a liquid (this makes it easy to drizzle over the pastry). with a spoon, take the frosting and drizzle over the turnover. after all the turnovers have the frosting drizzled on them, you can either wait until they cool, or if you're impatient like my husband, place them in the fridge for approximately 15-20 minutes. then enjoy!
xoxo,lindsay