Paneer tikka is one of the most popular dishes that families order when eating out and is an absolute favorite of my husband and son too! It is made from chunks of paneer and vegetables marinated in curd and spices and roasted in a tandoor. Since I didn't have a tandoor at home, I used a tawa to make my very own easy paneer tikka recipe for kids!
You can use a non stick pan or ceramic pan as well as a well seasoned tawa or griddle. I have reduced the spice quotient to make it more kid-friendly.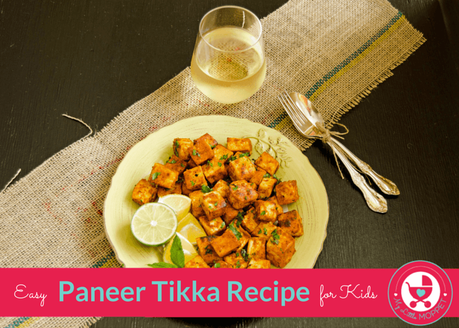 Ingredients:
200 gm cottage cheese or paneer cut into cubes
1 cup hung curd
2 tbsp malai or milk cream
Salt to taste
1 tsp coriander powder
1/2 tsp turmeric powder
1/2 tsp chaat masala
1/2 tsp garam masala
1 tbsp gramflour
1 tsp ginger garlic paste
1 tsp tandoori masala (optional)
1 cup bell peppers ( red, yellow, green) cut into cubes
1 tomato cut into cubes
1 onion cut into cubes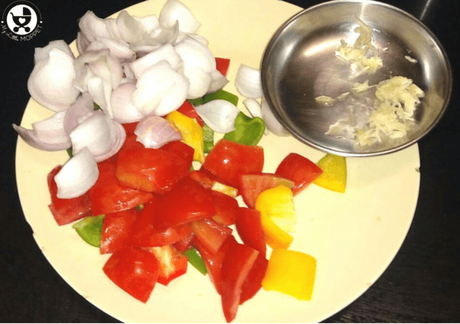 Method:
1. In a bowl mix the curd, malai and gramflour. Add all the spices and mix well.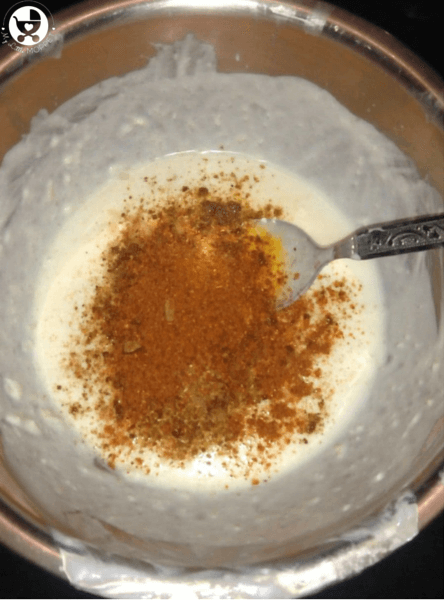 2. Stir in the cheese, bell peppers, tomato and onions. Mix so that all the vegetables are well coated.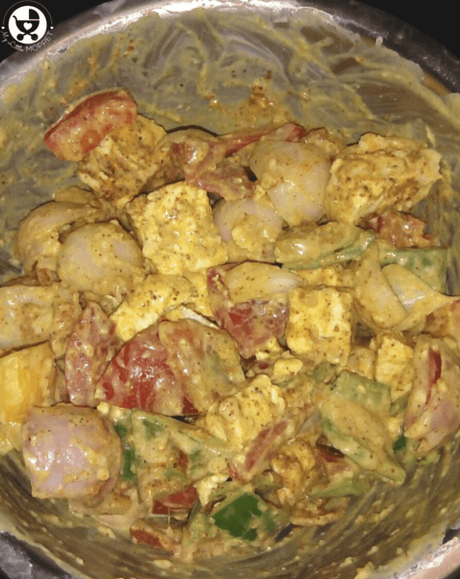 3. Keep the mix aside for an hour. When ready, heat a tawa and coat the surface with oil.
4. When the oil is hot enough, shallow fry the paneer and vegetables over medium heat.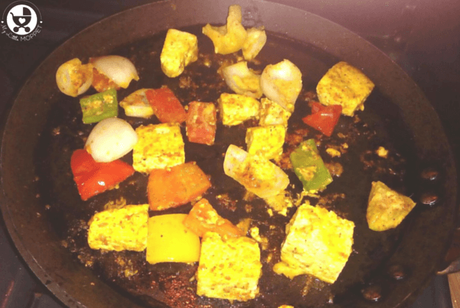 5. Cook from all the sides and keep turning with a pair of tongs till all sides are light brown. When done, transfer to a serving plate.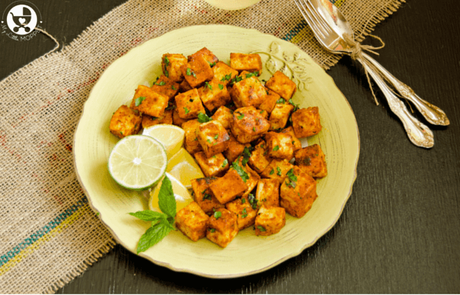 That's it, your paneer tikka is ready, without the use of an oven or tandoor! You can serve this dish with tomato sauce or mint chutney. You can avoid the tandoori masala if you're making this exclusively for kids, but do add it for the rest of the family; it gives a distinct flavor. You can also add a squeeze of lime and sprinkle chopped coriander leaves over it. So don't let the absence of a tandoor hold you back, go ahead and make some yummy paneer tikka!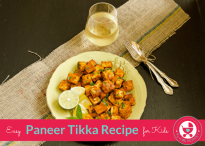 Lots of Love,