I remember a few years ago buying a store-bought green cleaner.  It felt good to phase out my old, toxic cleaners and go for something more natural.  But, I still felt the product wasn't 100% green.  When I think of green cleaning I think of something my grandmother would concoct in her kitchen just like she did her homemade jams, jellies, tomato sauce and a myriad of other goodies.  Why do cleaners have to contain anything toxic to be effective?  Well, they don't.  I've learned that you can tackle even the biggest, toughest messes with a little vinegar, baking soda, essential oils and other ingredients.
I thought I'd share a few of my favorite green cleaning recipes you can make at home.  While there are many, many more, these are my staples and ones you'll find in my green cleaning kit.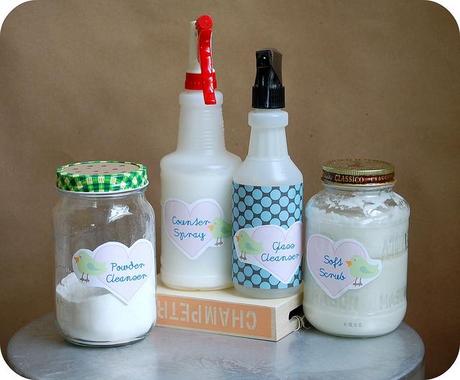 All-Purpose Cleaner
1 teaspoon antiseptic essential oils (eucalyptus, lavender, tea tree)
1 teaspoon washing soda
2 teaspoons borax
1/2 teaspoon liquid castile soap
2 cups hot water
Directions:
Combine ingredients in a spray bottle (repurpose an old one if you can).
Shake well.
Spray cleaner onto surface, leave for 1.5 minutes for the cleaner to have its full effect.
Wipe with a rag.
Window Cleaner
1/4 – 1/2 teaspoons liquid soap
3 tablespoons vinegar
2 cups water
spray bottle
a few drops of your favorite essential oil
Directions:
Combine all the ingredients into a spray bottle.
Shake to mix and use as you would a commercial brand.
The soap in this recipe is important. It cuts the wax residue from the commercial brands you might have used in the past.
Creamy Soft Scrub
2 cups baking soda
1/2 cup liquid castile soap
4 teaspoons vegetable glycerin
5 or more drops essential oil (try lavender, tea tree or rosemary)
Directions:
Mix all ingredients together and store in a sealed glass jar.
Scoop the mixture onto a sponge and scrub the bathtub, sinks, Formica countertops or shower stall.  Rinse.
More info: My Favorite Soft Scrub Recipe
Oven Cleaner
2 cups baking soda
1 cup washing soda (found in almost any store in the laundry aisle)
1 teaspoon dish soap
1 tablespoon white vinegar
Directions:
Mix together to form a paste.  You can also add a little bit of water if needed to thin it out.
Scour the oven as you would normally.
More Info:  Natural Oven Cleaner
Mold Killer
2 teaspoons tea tree oil
2 cups water
Directions:
Combine ingredients in a spray bottle.
Shake to blend.
Spray on problem areas. Do not rinse.
Furniture Polish
1 teaspoon olive oil
1/2 cup lemon juice
Directions:
Mix ingredients in a glass jar.
Dab a soft rag into the solution and apply, rubbing into the grain of the wood surface.
Buff with a clean corner of the rag.
Deodorizing Spray
8 drops tea tree oil
4 drops rosemary oil
4 drops lavender oil
2 drops lemongrass oil
1/2 cup vodka
1/2 cup distilled water
Directions:
Combine ingredients in a spray bottle.
Shake well.
Spritz into the air four or five times.
NOTE: If you don't have any vodka, you can use the full amount of water or use vinegar.
{image credit: makingchickensalad via creative commons}