I love this dish. The lemony beans really compliments the fish cakes and my little boy loves them.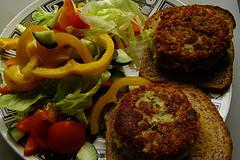 Fishcakes undressed (Photo credit: treehouse1977)
What you will you will need:
Fish cakes. (makes 8 small fish cakes)
400g potatoes, cut into chunks
500g white fish fillet (such as cod or haddock or salmon)
300ml of milk
a handful of flat leaf parsley
1 bay leaf (optional)
1 tablespoon of grated unwaxed lemon zest
2 tablespoons of chopped fresh herbs (dill, parsley or corriander)
2-3 tablespoons of plain flour
2-3 tablespoons of sunflower oil
sea salt and black pepper (optional)
Lemony green beans:
150g green beans
1 tablespoon freshly squeezed lemon juice
1 tablespoon olive oil
Method:
Cook the potatoes in a large saucepan of boiling water water for 15 minutes until tender. Drain the mash
Meanwhile, rinse the fish and put in a frying pan with the milk, parsley and bay leaf. Bring to the boil, then cover and simmer for about 10 minutes until the fish is cooked and the flesh looks white. Removed the fish letting any juices drain off then transfer into a large bowl. Let it cool slightly and when cool enough to handle, remove the skin and any bones and flake the flesh. Discard the cooking sauce (or you can keep and use for something else).
Add the massed potato, lemon zest and chopped herbs to the fish. Season to taste with salt and pepper, then mix lightly. Using your hands, shape the mixture into 8 small fish cakes or some small some large if you prefer. Put the flour on a plate and coat the fish cakes. Transfer the fish cakes to a plate, cover lightly with clingfilm and chill in the fridge for 15-30 minutes.
To make the lemony green beans, lightly steam or boil the beans for about 5 minutes until cooked but still slightly crunchy. Drain well, transfer back to saucepan and add the lemon juice, olive oil and a sprinkle of salt (optional). Toss well and cover to keep warm.
To cook the fish cakes, heat the sunflower oil in a frying pan. Add the fish cakes and cook for about 4-5 minutes on each side until golden brown, crisp and hot! Serve with your lovely lemony beans.
I hope you all enjoy. Why not get the kids to get their hands dirty and help you mix the ingredients together.