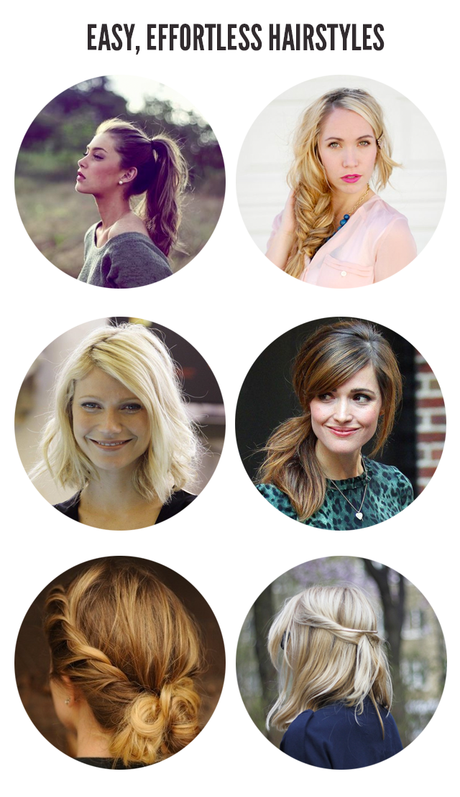 (left to right) one. two. three. four. five. six. 
I don't know about you, but I am always on the search for easy, effortless hairstyles. Especially in the spring and summer. My hair is now short, so obviously I can only do a couple of these hairstyles, but these looks are my absolute favorite and the sort of hair doozies I always find myself pinning. Between all six of them, the depressing styling rut is a thing of legend, and you won't take a razor to your flowing locks (but it would be awesome if you did end up doing that, and I fully support the shaved head look).
1. The high ponytail. Simply pull up your hair into a ponytail on the crown of your head, and then loosen it by pulling out the hair above and underneath the band to give it some volume.
2. The messy side braid. Sweep your hair to one side. Back comb your hair a bit, and then either do a regular braid or fishtail braid. Secure with a clear band and go back and fluff it up by pulling on some of the pieces to give it a more full look.
3. Loose, tousled waves. I find the easiest way to achieve this look is sleeping on wet hair and then going through it with a 1-inch barrel in the morning to freshen up some of the waves that have naturally set in.
4. The low side ponytail. Create a deep side part, pull all of your hair to one side and secure it with a hair band around your jaw line.
5. The twisted low bun. This one looks more complicated than it is, but it is incredibly easy! On one side, take two pieces of hair and twist them, picking up hair as you go down. As soon as you reach the bottom, secure it with a bobby pin. Do this same thing on the other side and then wrap both sections into a loose, effortless bun.
6. Half up twist. Grab small sections of hair on each side, twist and secure with a bobby pin at the back. Done!
What are your favorite easy and effortless hairstyles for spring and summer?