New to little Indiana? Subscribe for free to my RSS feed. Thanks for stopping by!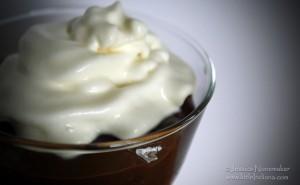 Homemade Chocolate Pudding Recipe
pumpkin recipes
little Indiana
I love this recipe for homemade chocolate pudding. It's easy and so fast to fix!
Be forewarned, however, that you cannot speed up the process. If you do not cook the pudding long enough, it will seem a little runny after it cools. We like this warm or cold–and it's especially good with a dollop of whipped cream.
Easy Dessert: Homemade Chocolate Pudding Recipe
Print Easy Dessert: Homemade Chocolate Pudding
From The Complete Guide to Country Cooking from Taste of Home books. See your local mom and pop bookstore and check this out!
This is my go-to source for many, many recipes.
Ingredients
1 Cup Sugar
1/2 Cup Baking Cocoa
1/4 Cup All-Purpose Flour
2 Cups Water
3/4 Cup Evaporated Milk
1 Tablespoon Vanilla Extract
Pinch Salt
Instructions
In a saucepan, combine together the Sugar, Baking Cocoa, and the Flour.
Add Water and Evaporated Milk and stir until smooth.
Cook over Medium heat, stirring constantly so the bottom does not scorch.
Cook until thick--you will see a difference. The original recipe says one minute, however, it usually takes somewhere between 3-5 minutes on our stove-top to reach the correct consistency.
Remove from heat.
Stir in Vanilla Extract and Salt.
Cool to room temperature, stirring several times.
Pour into bowls. Serve.
Schema/Recipe SEO Data Markup by ZipList Recipe Plugin2.0http://littleindiana.com/2011/11/homemade-chocolate-pudding-recipe/Photos are the Property of little Indiana. Do Not Use Without Permission.
little Indiana: Where to Stay, Play, and Eat in Small Towns in Indiana. Discovering Indiana's best small towns! Now get little Indiana on your Kindle.
Targeted. Relevant. Affordable! little Indiana advertising.