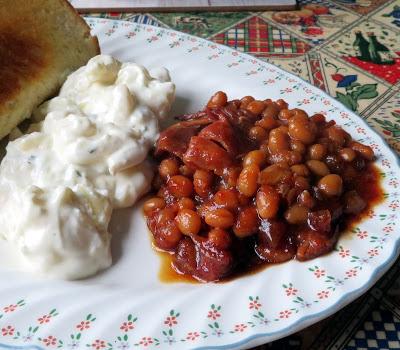 One thing I really missed when I first moved over to the UK was Baked Beans.  Beans that tasted like my mom's always did, and indeed like mine did through the years.  The dry beans were hard to come by, as was Molasses and to this day, Salt Pork does not exist here.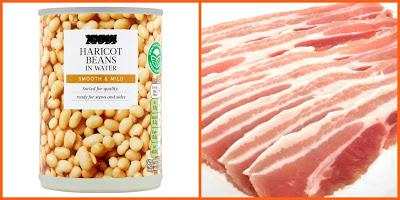 This  recipe is my nod to my mom's original Boston Baked Beans, and all the Baked Beans of my ancestors, albeit a bit easier to throw together. They use cooked tinned Haricot Beans (navy beans) and streaky bacon.  I like to use the dry cure bacon, and nitrate free if I can find it.  We love bacon, but its not very good for you, fat aside  . . .  its the chemicals.  Not good for you at all, that's why I use nitrate free if I can find it.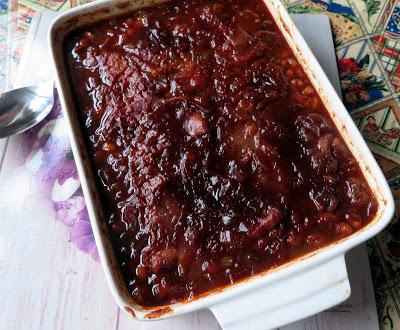 Back home, once upon a time we had a butcher who made his own home smoked bacon and it was truly heavenly.  His butcher shop always had the wonderful smell of his home smoked bacon.  I wish I could make some way for you to smell it here, but alas, you will just have to take my word for it. If you have ever smelt home smoked bacon, you will know what I am talking about.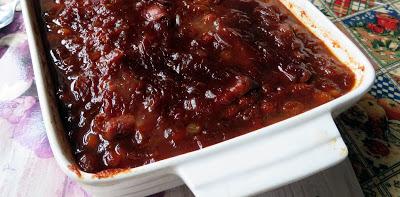 Back to the beans. Mom always baked hers in a stoneware bean crock.  My sister does hers in the slow cooker, both ways take plenty of preparation and all day to cook.  You actually have to start them the night before by soaking the dried beans overnight, and then you boil them for a bit in the soaking water with a bit of soda, which is supposed to help them soften. I am not sure if it does. I was always afraid to leave it out just in case!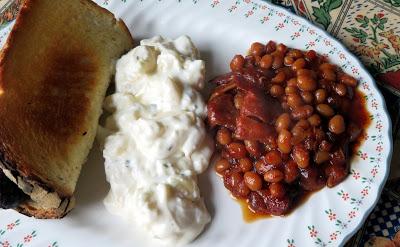 This recipe cuts out all of that overnight soaking and the boiling.  And trust me when I say they taste just as good as they would had you  started with dried beans. It uses tinned cooked haricot beans. (Navy Beans)  Three cans, drained and rinsed  . . .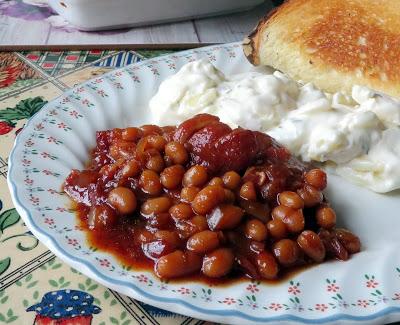 You make a rich and slightly sweet sauce that you bake them in, along with some onion and streaky bacon . . .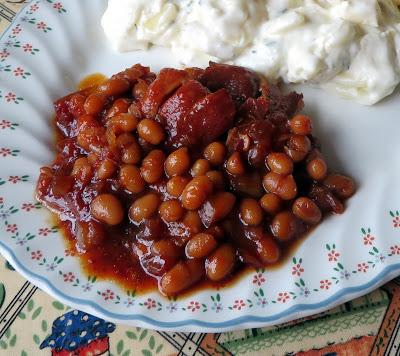 The sauce contains everything that from scratch Boston Baked Beans uses.  Molasses . . .  tomato ketchup  . . .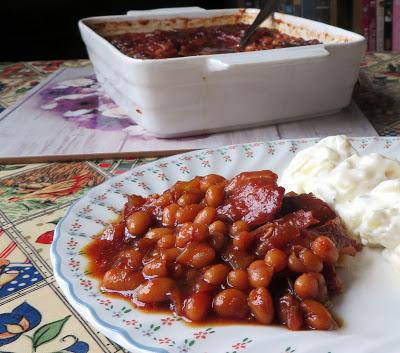 Seasonings, brown sugar  . . .  Worcestershire Sauce . . .  the original use Cider vinegar, and you could certainly use cider vinegar instead of the Worcestershire sauce if you wanted to.  I like the Worcestershire sauce myself.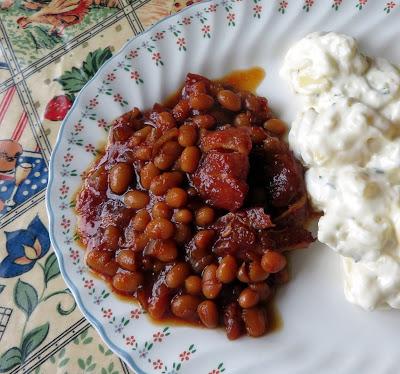 Chopped onion  . . . one medium brown skinned onion, peeled and chopped.  No more, no less . . .  the perfect amount.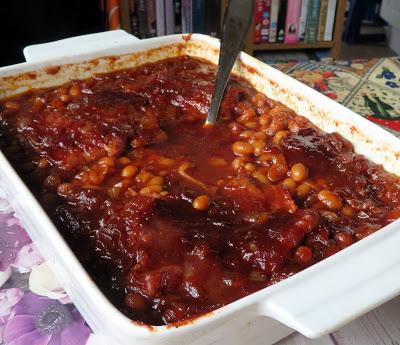 You dump the beans into a casserole dish and simmer the sauce ingredients to come to a boil and melt the sugar  . . . into that the onion goes.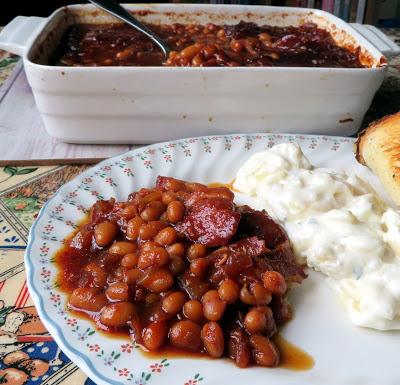 Half of that gets pour over the beans in the casserole dish  . . .  and then the bacon is laid on top . . .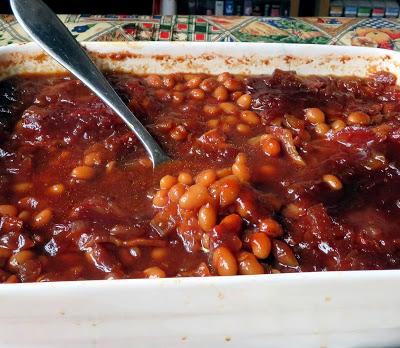 You pour the remaining sauce over top, cover tightly and then bake in a slow oven  . . .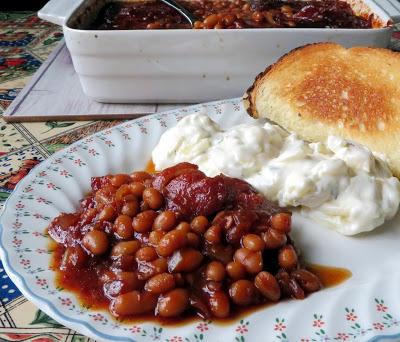 Three hours does it fine.  No need to have them in the oven or slow cooker all day, and they taste just as if you have . . .  I call these perfect baked beans.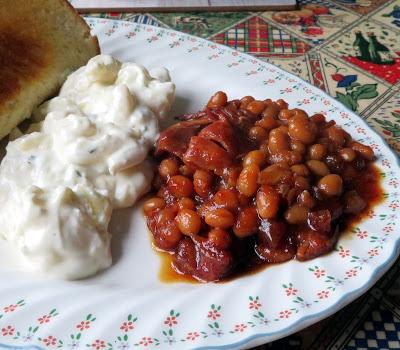 Easy Boston Baked Beans
Yield:
8 - 10
Author:
Marie Rayner
These are hands-down the most delicious baked beans and they only take have the time and work of the original  all from scratch version. Every bit as good. Trust me on this.
ingredients:
3 (400g) (15.5 ounce) tins of cooked haricot beans (cooked white navy beans0
1/2 pound sliced dry cure streaky bacon
1 medium onion, peeled and diced
6 TBS molasses (alternately you can use 3 TBS each golden syrup and dark treacle)
2 tsp salt
1 tsp ground black pepper
1/2 tsp dry mustard powder
245g tomato sauce (Ketchup) (1 cup)
200g soft light brown sugar (1 cup, packed)
2 TBS Worcestershire Sauce
instructions:
How to cook Easy Boston Baked Beans
Preheat the oven to 165*C/325&F/ gas mark 3. Drain all the beans and rinse them in cold water. Drain them again and then put them into a 9 by 13 inch glass baking dish, of small roasting tin. Mix the ketchup, molasses, salt, black pepper, mustard powder, tomato sauce, brown sugar and Worcestershire sauce in a small saucepan. Bring to the boil over medium heat, stirring to melt the sugar. Remove from the heat. Stir in the onions. Pour half of this mixture over the beans in the dish. Top the beans with the slices of bacon and then spoon the remainder of the sauce over top. Cover tightly with a sheet of aluminum foil. Bake for 3 hours until the beans are tender and delicious. Serve hot with your favorite accompaniments.
Created using
The Recipes Generator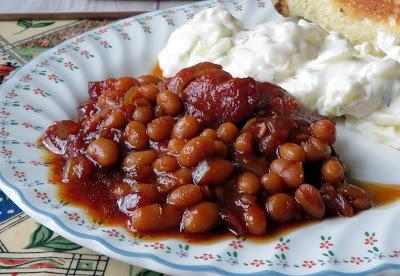 I would be happy with a plate of these and a slice of bread and butter and nothing else.  We had them with hot dogs and potato salad. These are a great dish to carry along to a pot-luck or a covered-dish supper!  I guarantee you will come home with an empty dish!
Up Tomorrow
:  Stilton Steaks with Sweet Potato & Garlic Mash 
Tasty tasty!