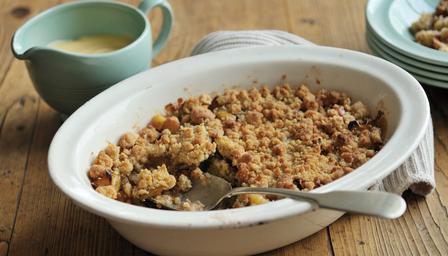 Today, I was talking to my friend about how much I miss eating the apple crumble desert at my favorite restaurant. But for today, I cannot go out. And here came the idea of making the desert at home!
I searched the web for some recipes, but as usual, not all of them are good. Until I found this easy recipe that I used and was worth trying.
Here are the ingredients you want:
Directions
APPLE MIX
Peel and core apples, then cut into rough 1-2cm cubes. Place apples in large saucepan and cover with water. Simmer (but don't boil) covered with lid on med-high until apples are just tender but not too soft (usually 5mins once water is simmering). Drain apples well and place in large bowl
Combine caster sugar and cinnamon (ensures even spread), then toss through the apples. If you like the apples to be less sweet and more tart you can omit the sugar in this step, though there may be excess juice as a result.
CRUMBLE MIX
Combine flour, brown sugar, rolled oats, coconut, cinnamon and nutmeg in a large bowl until evenly mixed through.
Melt butter (do not burn or boil it) and add vanilla essence to butter, stir through.
Add butter mix to dry ingredients and mix well using a fork. Ensure all ingredients are moist and mixture has a crumbly texture.
BAKING
Place apple mix evenly in medium casserole dish. Spread crumble mix over top of apple. Bake at 180 degrees C for 30-40minutes, or until crumble topping is slightly browned.
Serve with vanilla icecream, cream, or custard.
Try it and tell me how it will taste!
Enjoy

33.809902
35.600622