Each year in mid-April is usually a good time to take a look at what you've got in the ground and compare that with your planting plan. It will highlight if you have extra room you weren't expecting - something has failed at seedling stage, or you simply forgot to sow at the right time - and will also be a good check to see if you have room for the rest of your planned planting.
In the suburban veg plot, the broad beans have grown well since their re-sowing in February and are flowering well. Among them are nasturtiums which I hope will be more attractive to the blackfly than the beans themselves.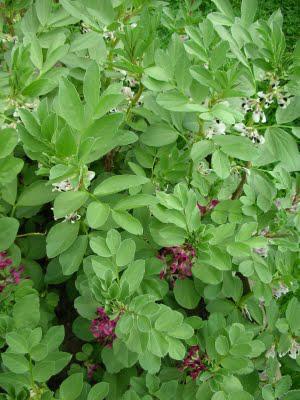 I've already started harvesting radishes and the looseleaf salad - and as last year, it's just fantastic. Crisp, fresh and tasty leaves from plot to plate in 2 minutes. You just can't get better than that.
The celeriac, carrots, beetroot and spinach are filling one raised bed and the butternut squash, miniature pumpkins and courgettes are also out in the ground.
On the herbage front, the chives and sage are in flower and the mint is flourishing. Just in time for Pimms season!!