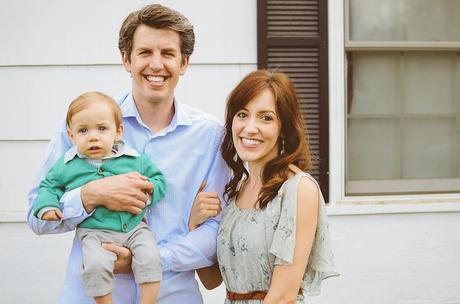 (it's hard to tell but I'm sandwiched between TWO baby bumps in this picture)
After church on Sunday, we celebrated Easter with a few close friends at Lesley's house. We barbecued and scattered Easter eggs around the backyard, which were responsibly filled with animal crackers and magnetic letters instead of candy. No cavities in this group! Everett had no clue what to do with the plastic eggs so he just tried to eat them whole.
He'll get it next year, I hope.
Lesley and I took this opportunity to put a few of our favorite Bread and Wine recipes to the test, including mini mac & cheese, Nigella's flourless chocolate brownies, goat cheese biscuits, bacon-wrapped dates, and dark chocolate sea salted butter toffee. No doubt, the goat cheese biscuits were the hit of the day. I think I speak for everyone in attendance when I say that our table was equally blessed with good community and good food.
If you missed my original review of Bread and Wine, you can read it here, and don't forget to order a copy of the book for yourself! Head over to Lesley's blog today for more pictures and the goat cheese biscuit recipe.
____________________
"Holiness abounds, should we choose to look for it. The whisper and drumbeat of God's Spirit are all around us, should we choose to listen for them. The building blocks of the most common meal—the bread and the wine—are reminders to us: "He's here! God is here, and he's good." Every time we eat, every time we gather, every time the table is filled: He's here. He's here, and he is good." – Shauna Niequist, Bread and Wine
____________________
Mini Mac & Cheese
Ingredients to Serve 8
1/2 pound elbow macaroni (or 4 cups cooked)
2 cups sharp cheddar cheese, shredded
2 tablespoons butter, plus more for pan
1 tablespoon dijon
2 dashes Tabasco
1 egg yolk
1/4 cup grated Parmesan cheese
Smoked paprika
Directions
In a pot of boiling water, cook the macaroni to just al dente, which is just a touch firmer than how you'd like to eat it. About 5 minutes. Drain.
On medium-low heat, warm butter and cheddar cheese, whisk till smooth.
Add Dijon, Tabasco, egg yolk, whisk again.
Add macaroni and mix until well coated with cheese.
Brush mini muffin pan with melted butter, then sprinkle grated parmesan into each cup.
Spoon into muffin pans, making them slightly rounded and packing them gently. Top with grated Parmesan.
Bake at 425 for 12 to 14 minutes, until bubbling and golden on top. After removing from oven, sprinkle with smoked paprika.
Let cool at least 10 minutes before serving, because they will set as they cool. Serve warm or at room temperature.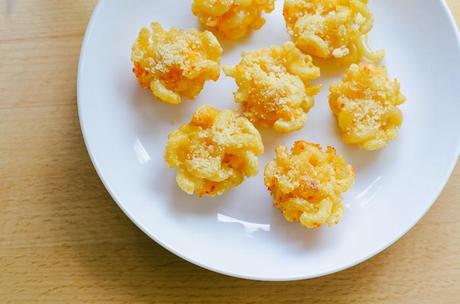 Enjoy! If you have leftovers that don't fit into the muffin tin, the mac & cheese is good on its own and makes a fabulous afternoon snack. Everett loved it.
How was your Easter?