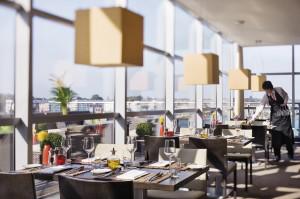 I was told by a wise, elder Amsterdammer that should I crave real Dutch cuisine, to find the closest Asian restaurant. The advise, given half in jest, isn't a far stretch from truth. A city built on a history of trade, it isn't surprising that the traditions of the east so dominate Amsterdam's culinary culture. But far from the tourist traps or Zeedijk's Chinatown, east-meets-west is done best at the Movenpick Hotel's Silk Road restaurant.
Situated on the eastern port area of the Oostelijke Handelskade, the second floor eatery boasts spectacular views of the water and a sprawling, sunbathed terrace. The open space feeling is felt inside thanks to the restaurant's smoked oak furnishings, mild tones and a bamboo motif.
Choosing a window seat, I take in the menu. Dishes range from the simple to the exotic but all featuring favourite elements from home and abroad.
I settle on Movenpick's signature Caesar salad and friend North Sea crab cakes to start, along with a glass of the superb white wine, Sancère.
The salad is as expected, classic with all the trimmings. The succulent surprise comes with the crab cakes – paired with cumin aioli and mango chutney, there is a bursting tangy sweetness that accentuates the crab.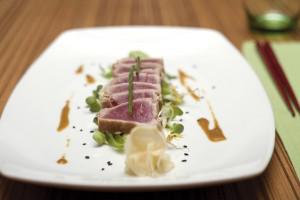 I enjoy slow eating, something servers can overlook, but not at Silk Road. I was never rushed and only after my first course had settled did the main of sea bream and soft shell crab arrive.
The dish was intimidating in presentation, with sides of buckwheat noodles and cucumber strangely offsetting the seafood. Topped with a crab and kaffir lime sauce, I wasn't sure what to expect.
I ventured a first bite and apprehensions quickly vanished. The tenderness of the fish, and the cold crisp of the cucumber was fantastic. And the motley mix of flavours were carried and enhanced by the south-east Asian inspired jus.
Over coffee and Movenpick's well-known Swiss chocolate, I caught myself loosening my belt and looking ahead to Silk Road's monthly specialties. With asparagus season kicking off their May menu, I won't have to wait long for another feast of flavours.