0 Flares
0 Flares
×
New to little Indiana? Subscribe for free to my RSS feed. Thanks for stopping by!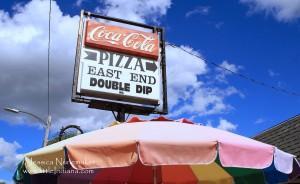 East End Double Dip Ice Cream in Peru, Indiana
When you are in Peru, Indiana a visit to East End Double Dip in is a must!
With the rainbow-striped umbrellas and plenty of outdoor seating, East End Double Dip is a wonderful neighborhood (and beyond) ice cream stop.
East End Double Dip Ice Cream Shop in Peru, Indiana
What's really neat about this Indiana ice cream shop are the flavors!
It was pretty easy for everyone to figure out what they wanted. I wanted to surprise Kid #1 with rainbow-colored ice cream. Kid #2 got a shake because it's easier, and my husband, Jeremy, went for the mocha chip kind of thing. It's exact name escapes me…I was too intent on my own selection, I am afraid.
Deciding on what flavor of ice cream I want is no simple decision! I wanted to try their Fall special, Pumpkin Ice Cream but then I noticed Lemon Ice Cream on the menu and…you know my obsession with lemon!
Ice Cream and More at East End Double Dip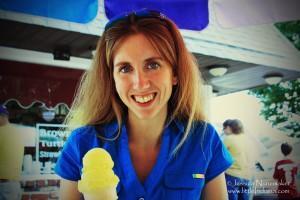 East End Double Dip Ice Cream in Peru, Indiana
This Miami County shop also advertises some things that certainly sound interesting: Brownie Bowl, Turtle Sundae, and Strawberry Shortcake. Along with a whole big old list of ice cream.
Now do you see why it was so very hard to decide?
As you can see from the image, I had to go with the Lemon Ice Cream! It was so good. Cool and creamy with just the right amount of lemon. Yum!
Go There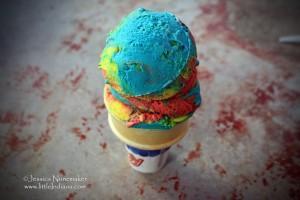 East End Double Dip in Peru, Indiana
There's nothing better than mom and pop ice cream parlors.
Folks in the area are so lucky to have such this sweet addition. I just love the atmosphere here! I know you will, too!
Have you been to East End Double Dip in Peru, Indiana? What would you recommend to others? If you found this article helpful, please consider "liking" it and sharing it with your friends. 
Find pictures in Indiana on my Flickr photostream or on the new little Indiana Tumblr blog.
Just don't forget to tell 'em that  little Indiana sent you!
East End Double Dip
451 E Main Street
Peru, Indiana 46970
765.472.3436

View Larger Map
Don't miss a moment. Subscribe to little Indiana and receive instant updates to stay on top of everything "little."
little Indiana: Where to Stay, Play, and Eat in Small Towns in Indiana. Discovering Indiana's best small towns! Now get little Indiana on your Kindle.
Targeted. Relevant. Affordable! little Indiana advertising.