Coupon Code (Click to Copy & Open Site)
Almost every mobile user is using the SD cards in order to store their important images, videos and other documents in a safer manner. By mistake or due to any other technical errors, there might be a loss of data or unexpectedly deleting the files from the SD cards. In this situation, you don't need to worry about it because there is an excellent option of recovering your lost data using the specialized data recovery software. From among the various options of the recovery software platforms currently available in the market, EaseUS Data recovery wizard free would always be a right choice for everyone. Apart from that you can read the full review post about EaseUS Data Recovery Wizard. I hope all my readers will find this post helpful about EaseUS SD Card Data Recovery Software and their features. Keep sharing your thoughts and questions below in the comment box.
EaseUS SD Card Data Recovery Software
>> Stellar Data Recovery & Its Benefits>> EaseUS Data Recovery Wizard Review>> Recover Corrupt, Deleted or Formatted Kingston Pen Drive Data>> Review of Kernel for Exchange Server Recovery>> Recover Deleted Photos in Window 8
It is absolutely free to make use of this EaseUS SD Card Data Recovery Software whether you have lost data due to the human error or technical error or sudden power out. As it is the top rated recovery software for all versions of the SD cards, one can able to quickly and easily recover the formatted, deleted or the lost data from your SD card removable device. If you are the first time user of this recovery software, it is highly suggested using the free download free data recovery software online. With the use of the free recovery software, one can able to recover up to 2GB data from any of your memory cards. If you want to recover more amounts of data from the removable devices, it is highly very important to upgrade it to the pro version of the same software. The pro version of the EaseUS data recover software will be really great to recover more than 2GB data from the SD cards.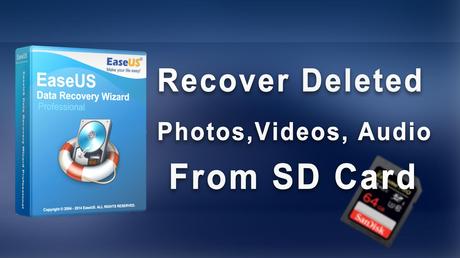 Features of the EaseUS SD Card Data Recovery Software
If you are using the free edition of this EaseUS SD card data recovery software, it is absolutely capable of performing the best data recovery. It can able to recover the data not only from your SD cards but also from the USB drives, hard drives, memory cards and also some other options of the external storage devices. The following are the most considerable and beneficial features of this recovery software including,
● Formatted recovery
● Accidentally deleted files recovery
● Lost partition recovery
● Recycle bin empty data recovery
● OS crash recovery
● Virus attack recovery
● Hard drive damage
● Raw partition recovery
It is actually considered to be all in one and free data recovery software in order to solve all types of the various data loss situations. When someone is utilizing this EaseUS data recovery free wizard, you can easily recover the lost documents, files, pictures, videos and more from the formatting errors, deletions, virus attacks, OS crashes, partition losses, and also some other options of the data loss possibilities.
Whether you are in any kind of these situations, it is always better and beneficial using this data recovery software in order to recover the lost data from your SD cards.
Steps to Recover Back Your Lost Data
Whenever you are in need of recovering back your lost data, it is always better using this highly comprehensive range of the data recovery within just a few simple steps. If you are the first time user of this recovery software, first of all you should need to make use of the free online guide to exactly locate and recover all kinds of the lost files from your SD cards. With the help of this software, you can also recover the lost data from the hard drive, laptop, desktop, PC, digital camera, USB, SSD and more devices. The following are the most comprehensive steps which should be followed while doing this SD card data recovery to recover back your lost data from the memory cards.
⮚ 3 click, fast & simple - One can able to finish the entire data recovery process within just 3 clicks. This is why using this EaseUS data recovery software is absolutely fast and efficient.
⮚ The users can able to easily recover all types of your lost and deleted files.
⮚ There is no prior recovery experience required to use this software because it is absolutely easy to understand every by the beginners.
⮚ There are also two flexible scanning modes available such as quick scan and deep scan.
⮚ If you are using the quick scan mode, you can able to search for the deleted folders and files using the basic algorithms in order to get the faster results.
⮚ When it comes to the deep scan, it helps to scan your memory card sector by sector in order to ensure the best recovery results.
⮚ Previewing your card before the final recovery is the most important thing for everyone.
⮚ It is really very important to preview all of your files available for the recovery before recovering them.
⮚ You should also be very careful in choosing what you wish to recovery and avoid the unnecessary recovery.
Things to be Considered
If you are using the https://www.easeus.de/ online based data recovery software, you will be allowed to recover more than 1000 types of the files for your further uses. You can recover,
✔ Documents - Doc, doc, ppt, pptx, html, htm, pdf and more.
✔ Graphics - Jpg, jpeg, orf, sr2, swf, tiff, tif, mrw, dng, raf, wmf, raw, psd, gif and more.
✔ Video files - AVI, MP4, MOV, WMV, 3GP, SWF, FLV, MKV, MPEG, ASF and etc.
✔ Audio files - AAC, M4A, WAV, WMA, MP3, MPG, MID, MIDI, OGG, FLV, RM, RMVB, OGG and etc.
✔ Emails - DBX, PST, EMLX and more.
At the same time, you can recover some other types of the files such as ZIP, ISO, SIT, RAR and etc.
There are different editions of the EaseUS SD card data recovery software available now with the different features and benefits. First of all, you should need to look at the comparison between them and choose a right choice which suits your SD card data recovery needs.
Must Read
How to use Brand Power of Instagram for Business
How I Increase Domain Authority?
How to find A Phone When Silent
How to Speed Up Joomla Performance
How to Use Templates in Azure Data Factory
Did you like this article?
1. Please share it with your network, we'd really appreciate it!
2. Would you like to write for Computer Geek Blog?
3. Keep subscribe us and follow us on Facebook and twitter for more tips & ideas about new technology.

Savita Singh is the author of computergeekblog, She has a superlative knowledge of Graphic and Web designing. She is a part time and award winning tech blogger who loves to write about latest technology, social media and web design. Her blog focuses on creative things of designing and tech, providing professional opinions on designing products, performances and a variety of business.