We are finally starting to settle in here but I know it will not be for long. We are currently living with family so in the next month or 2 we will be getting our own home and will be moving yet again! Baby F will be 11 months old tomorrow and as mentioned in my previous post I am in party planning mode! And of course of wedding is in the middle of July so I am busy busy with wedding planning as well! I had my first dress fitting last week and it will be finished by July 1st!!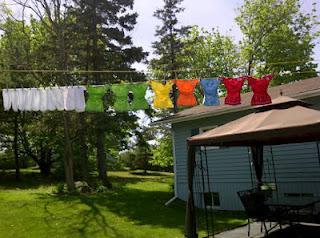 A few of my cloth diaper orders have arrived (8 diapers total for now) so I washed them up and have started to use them and so far so good! I like them so much I have decided to order more and sell them! I posted ads on local classifieds and created a Facebook page business! I also plan on setting up a table at the local flea market every few weeks to sell there. I will sell a few other baby accessories and also will be making natural wood teething rings. I am very excited to start my home business venture! ...and hopefully I will be able to make some extra cash so I can work less and spend more time with Baby F...my maternity leave is over at the first of June :(
It has been so wonderful these past few weeks to be able to take Baby F and our dog outside in the nice weather to play in the yard! They both enjoy being outside so much...Its great for us to be out of the big city. Here is a pic of Baby F outside today modeling one of his new cloth diapers! LOL he is soooo cute!